'Top Gear's Rory Reid on The New Hosts and Working With Matt LeBlanc
When the BBC announced that Richard Hammond and James May were following the fired Jeremy Clarkson out the door for the upcoming 23rd season of Top Gear, every "petrol head" who has driven a sports car and taken a video of it sent in a tape. One of them was Rory Reid, who was the editor of the UK car site Recombu and whose popular YouTube test drive videos showed how he'd fit right in to the reconstituted show, which debuted in 2002.
New executive producer and host Chris Evans was impressed with his audition tape and selected him to be part of the new hosting team, along with fellow YouTuber Chris Harris, Eddie Jordan, Sabine Schmitz, and (most surprisingly, but not if you know him), Friends star Matt LeBlanc (The Stig, of course, is still around and still very mysterious).
We spoke to Reid ahead of the show's May 30 premiere on BBC America (it premieres on May 29 in the UK) and asked him if there was any pressure taking over for the original team, why he wanted the job so much, and if he feels any competition with Clarkson, Hammond and May, who are currently filming The Grand Tour for Amazon.
RELATED: Matt LeBlanc Named Top Gear's First Non-British Co-Host
Is it nerve-wracking taking over such an iconic franchise? Is it exciting?
A little bit of both. When the announcement was first made, back in February, January—it seems such a long time ago now—there was some nerves, but only because I had been kind of on this path of trying to get on the show, for what seems like, it was a few months of going to auditions and screen-tests and things like that. And then when the announcement was made, it was like, "Wow!, it is actually happening."
So, right then, when Chris Evans made the announcement, I was a bag of nerves. You know, it was strange going from relative obscurity to seeing your name in the newspapers and things like that. And that is when I realized the s–t was about to get real. So that was an interesting moment in terms of my emotions, but since I started work on the show—I started work probably two days after that announcement was made—it's been really easy. It was just me turning off and doing the job I normally do anyway, which is all I do. Drive around, talk about cars and have fun and I am no stranger to having cameras pointed at me. So it wasn't alien to me at all.
Replacing the original team was going to be tough, and there is a certain tone on the show. What do you think they were looking for with the new team and why do you think they expanded the team, from the three guys, to six?
Wow. What were they looking for? I think, two things. On one hand, they were looking for people who were credible. So, you've got guys like myself, Chris Harris, who come from a background of doing videos about cars. We drive fast cars for a living, we are able to tell that story about what those cars make you feel. It's the real deal, when it comes to driving cars.
And, also Matt LeBlanc, he is a real petrol head. I mean, he had the fastest lap time on the show when we first started. In terms of Chris Evans, I mean, he was chosen because he is a real experienced broadcaster and he knows, exactly, how to put together a TV show. And also, his passion for cars is unquestionable, just looking at the connection is enough to tell you that.
Eddie Jordan, you look at him and he has been around cars for longer than I've been alive. He's been the boss of a very successful motoring team. He actually gave a job to people like Ayrton Senna and he basically put guys like that on and he gave them to shine. He brings a different angle to the table. Plus, he is also a very charismatic guy and he is very funny. I was hanging out with him last week, in Monaco and he is hilarious. So that sense of authenticity and that passion for cars and that caring about the whole car industry, was something they were looking for. They put together a good team.
When was it announced that they were searching for a new set of hosts, did you immediately think, "I got to get them an audition tape?" Or, did you need some convincing?
I was ready. Look. As soon as it was announced that Jeremy Clarkson was leaving. This was before [Richard] Hammond and [James] May had also confirmed that they were leaving. I was trying to put things in place where I could get in front of the right people to say, "Look if you need someone else, maybe you should look at me." So I was sending emails, I was like. I put together this show reel and I was hanging out at the BBC, trying to find the right people to show this to.
So I was hungry to actually put myself in the right position, and to get people to see me and to say, maybe you should give this guy a shot. As it turned out, I did not find the right people and that didn't go down that way. For example, it was announced that they were doing a search for a new presenter via the opening audition process and I was like, okay, that is my opening right there.
And I put together my audition tape. I did it really quickly too, I think I did the next day. The day after they announced they were doing it. And I shot maybe nine different versions of that and then I showed it to my girlfriend. I was like, "I have done this." She hated it. She said, "You are wearing the hoodie. They don't want people who wear hoodies. You are too casual, you need to wear a shirt," and I'm like, "Okay okay." And I went back and filmed about 4 versions, in a shirt, … You know, trying to present it in a different way and in the end I just sent them the very first version that I shot. Literally the first day. Because I though they represented me more than—it was the true me, basically.
What is the most exciting car, or most interesting car you have been able to drive, so far, on Top Gear?
That would be the Tesla Model X, which I shot in New York. Driving around Manhattan, was very cool. It's an SUV, so it is more expensive than anything they do.
RELATED: Ex-Top Gear Team Lands on Amazon
Had you been a fan of LeBlanc? Even though you know he is a gear head, was it weird seeing this big TV star doing this show? How soon did it become just normal?
It was normal [right away]. Do you know what, it was only weird because other people kept telling me, "Oh, you going to meet Matt LeBlanc, oh, what's he like?", "Oh my God, Matt LeBlanc!" And I am like, "Am I missing something?" I mean, I was a big fan of Friends, but I don't get star-struck around people. I guess. I know he has a job to do. I have a job to do. And he was a nice guy when I met him, so I wasn't like begging for his autograph or anything like that. He is such a normal guy that I didn't feel that need to react to him any differently that I would react to anybody else that I met in a normal job.
How much pressure did you guys feel, given that the original team, you know, was there for 13 years, and the circumstances under which Clarkson left were tabloid fodder?
I think a little bit beforehand. So in the build-up, there was apprehension about how things were going to go. But you are so busy trying to focus on the words you have to say and the delivery and trying to make the show look as good as possible, and run as smoothly as possible. So when you go in there, you don't focus on what came before. And the beauty of it now is it looks different. I mean, you walk into the studio and the studio looks different, so you don't feel the ghosts of the guys that came before you. The track is fresh. So I don't feel as if I am walking in the shoes of the people that came before. So we're creating this new history of Top Gear.
Obviously there will be people that are kind of stuck in their ways and want the old crew back but they can have the old crew. The old crew have their own show coming up, [The Grand Tour] on Amazon. So, we are just concentrating on what we have to do to make ours as good as possible and the studio staff. Things have gone better than what I thought they would in the studio. I think the studio fits together rather nicely.
Some reports that said the first studio taping took a little bit longer than expected, but that is because it was new to everybody?
Yeah. The studio is new. I think. When you work in a studio that has been the same for 13 years or whatever, you get it down to a science. You know exactly, what cameras move where, when who talks, and you get it down to a science. I mean, we had never done anything. It takes a little bit of … You can't practice it. You got to go in there and do it. And then when you do it, you think. Maybe we could do that slightly better. Let's maybe do that take again and let's use a different speed of movement for the cameras moving from one place to another. Whatever. All that kind of stuff. So, episode 2, when we shot that, it went quicker, episode 3, we did even quicker and in 10 years from now, it may be done within an hour. Who knows.
Do you feel like you guys are just doing what you are doing and not worrying about The Grand Tour?
When we go to work, nobody is speaking about those guys. Not even in the smallest amount, whatsoever. Certainly not me. I can speak for myself. I definitely don't turn up for work, thinking "Oh my God, what's Clarkson doing?" You know, I literally don't care. And I think I do a much better job that way. Because if I was to start worrying about their approach then maybe that would influence me and I would create something that wasn't as good. I wasn't as true to myself. I don't think about those guys.
I think, in terms of the people that are looking forward to Amazon, and maybe saying that they are not going to watch us, that's fine too. What I think is that people should embrace this fact that there are now two really, really high end car shows. There is Top Gear which you can get basically for free and then there is The Grand Tour , which you will pay a little bit of money and you also get a fantastic show.
Over here in the UK, we have about 15 different cooking programs and no one is looking at a new cooking program going, "I'm not going to watch that, I'm going to watch the other one because I am loyal to those guys." You know, people are like, "If I like it, I will watch it, because I am interested in cooking." I don't really understand why people are so possessive about car shows, and why they can't just say, I will watch them both, or I will wait and see whether I like one, or the other, and then I make my decision from there. That is how I approach it. As as fan of cars, that is … I can't wait to see what Top Gear is like and equally I can't wait to see what The Grand Tour is like. Because as a fan, a consumer, as a lover of cars, I really hope those guys do a good job, because I want to sit back and watch them do their thing, as I have, over the last ten years. And then you know, everyone's a winner.
Top Gear, Season Premiere, Monday, May 30, 9/8c, BBC America.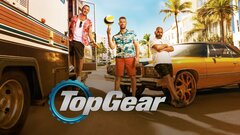 Powered by