'The Real Housewives of New Jersey': Teresa Is Back and So Is The Drama (VIDEO)
Of all the shows in the Housewives franchise, The Real Housewives of New Jersey is the one that seems to draw me in the most. Yes, it could be the fact that I'm from and still live in the Garden State. But, more than anything, it's because the drama created is somewhat less fake than in the other Housewives shows, especially because the cast members have had such close friendship and family bonds. Aside from original cast member Danielle Staub, outsiders tend to not make it because they feel like interlopers.
RELATED: Get Ready for Bigger Drama: Meet the Real Housewives of Dallas
In Season 7, premiering July 10 at 8/7c, the drama should be interesting, mainly because the show picks up from when Teresa Guidice is released from federal prison after serving 11 months on fraud charges, with her husband "Juicy" Joe Guidice getting ready to go away for 41 months on the same charges. But Teresa's best frenemy, Jacqueline Laurita, is back full-time, and in the trailer below it seems like the tension between the two couldn't be smoothed over by the "perspective" T gained in prison:
There are two new cast members: Relationship expert Siggy Flicker—who people may recall had her own reality series on VH1, called Why Am I Still Single?, in 2011—and Dolores Cantina, who is supposedly close friends with both Jacqueline and Teresa. Of course, Joe and Melissa Gorga will be back, with Joe and Teresa's cousins Kathy Wakile and Rosie Pierri making their usual supporting appearances.
RELATED: There's Something About Maryland: Meet the Real Housewives of Potomac
To be honest, we're holding out to see what's been going on with Teresa and Joe's melancholy teenage daughter Gia, who seems to have more of a soul than the whole cast put together.
The Real Housewives of New Jersey, Season Premiere, July 10, 8/7c, Bravo.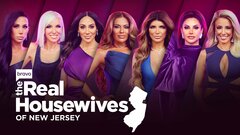 Powered by