First Look: 'Stitchers' Cameron Faces His Toughest Choice Yet (VIDEO)
Decisions can be tough—especially when its your heart (and someone else's) on the line. But as the exclusive clip from Tuesday's episode of Stitchers shows, that's exactly what Cameron (Kyle Harris) will be forced to do when Nina (Jasmine Savoy Brown) confronts her current beau about his relationship with—and feelings for—his colleague-turned-best-friend Kirsten (Emma Ishta).
RELATED: EP Jeff Schechter On How the Stitchers Halloween Episode Fits Into the Show's Timeline
Unfortunately for everyone's favorite neuroscientist, that won't be the only thing he has to worry about in the upcoming hour when Kirsten ignores Mitchell Blair's (guest star John Billingsley) orders to stop trying to find her father, and contacts a potential lead. However in order to gain her new source's trust, Kirsten not only tells them about her role in the Stitchers' program—including its purpose—but also recounts the team's latest case which has to do with a spate of murders connected to a popular new app.
Stitchers, Tuesdays, 10/9c, Freeform.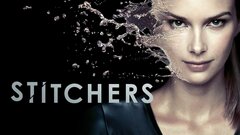 Powered by