Watch: Camsten's Dinner Gets Weird in 'Stitchers' Preview
Dinner for three?
Freeform's Stitchers just took the stage for its Comic-Con panel in San Diego Thursday afternoon and opened with the first 12 minutes of next Monday's new episode. In it, fans saw some unlikely camera angles and a strangely confessional—not to mention emotionally charged—dinner conversation between Cameron (Kyle Harris) and Kirsten (Emma Ishta) that took a startling twist after Kirsten cut the night short.
"It's an oddball episode," teases creator and executive producer Jeff Schechter of the hour, which was directed by John Badham (Saturday Night Fever and Season 1's bird-flu episode) and drew its inspiration from another sci-fi series that currently announced a major change. However, to reveal too much about that before Monday night's airing would spoil the fun, says Schechter. "I don't want to give anymore away."
We can, however, give you a couple minutes from the clip so you can see for yourself how the whole thing feels different from your normal Stitchers. So check it out below and if you have any theories as to what's up, let loose in the comments section!
Stitchers, Mondays, 9/8c, Freeform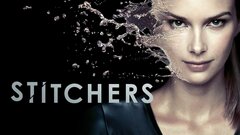 Powered by