First Look: Salli Richardson-Whitfield Pulls Double-Duty to Direct 'Stitchers'
A few week back, Stitchers' Maggie Baptiste said, "Maggie sees all." And now, so does the actress who plays her.
Salli Richardson-Whitfield takes on the role of director for Monday night's new episode of the Freeform series, so we stitched in to get some intel on how it all went and scored some exclusive footage from the finished product.
Talk about juggling your work on the episode behind and in front of the camera?
Well, directing is hard enough, but when you add in the extra headache of learning lines and having a bigger than usual storyline, it's not easy. But if it was easy, everyone would do it. What's hard about doing both is that when you're acting, you have to give up some of the control that you would normally have as the director, and I don't like giving up that control. [Laughs] But I had a wonderful team—my director of photography, my first AD and my script supervisor really made sure that what I wanted and had described to them, I was getting.
You have already helmed episodes of Scandal, Shadowhunters, Queen Sugar and Underground. What did you learn from your previous directing gigs that helped you take on the more sci-fi vibe of Stitchers?
I think that directing sci-fi shows comes naturally to me because as an actress, I have been in so many of them. Also, the first episodes of TV that I ever directed were on my show "Eureka," which was a sci-fi show. I really love the genre and I love action and suspense so it fits into my wheelhouse of thinking.
How did the cast handle being directed by someone they share scenes with?
We really have a wonderful cast. I think that they were actually looking forward to having me direct them. And everyone was very open like a family with me; we had a great time.
What was the toughest scene you had to nail for the episode?
The hardest scene to direct was the big shootout scene towards the end of the episode. Not because of the action, but because I was involved in the action as an actress. Directing a scene like that is hard enough, but when you're the one jumping around, it takes it to crazy town. But I just had to do a little more planning and it all worked out fabulously!
That's pretty clear from this peek at a more dramatic moment that sees Kirsten (Emma Ishta) delivering the mother of all ultimatums to her boss.
Stitchers, Mondays, 9/8c, Freeform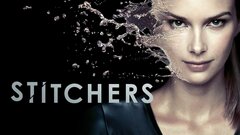 Powered by