'Stitchers' Emma Ishta and Kyle Harris On Cameron Waiting, Kirsten's Feelings
The Stitchers team will have a lot on their plate Tuesday night.
As Kirsten (Emma Ishta) and the gang will quickly learn in tonight's episode, the unidentified victim she'll be stitching into will have two death scenes, each from a very different time in his life. And if that doesn't keep the Kirsten busy, Detective Fisher (Damon Dayoub) will uncover a new clue about her currently missing father.
RELATED: 7 Things to Know About Stitchers 2.0
Hopefully she'll be able to find her focus after the events of last week's episode, which saw co-worker and close friend Cameron (Kyle Harris) admit to having feelings for her. But she won't be the only one with good reason to be a little distracted. The end of last week's hour saw Linus (Ritesh Rajan) return home to find that his apartment had been robbed by Camille's (Allison Scagliotti) younger brother Theo (Logan Paul).
With Tuesday's episode following up Cameron's big reveal, TV Insider caught up with Kyle Harris and Emma Ishta to discuss that big moment, how Kirsten's coping with it and some of the season's bigger surprises.
As we saw last episode, Cameron took a few big risks—including telling Kirsten he has feelings for her. How are they both processing it?
Kyle Harris: The climax of that 'living life like there's no tomorrow' attitude we might have already seen in this last episode when he came to terms with his feelings for Kirsten. That's the biggest outcome of his newfound take on life. Now it's about what he does with that and how he feels. He's willing to wait for her.
Emma Ishta: But is he really?
KH: I think he is willing to wait. But there are some things that come up along the way that aren't necessarily distractions, but other slices of reality that he hadn't really thought of for himself. There are characters and new relationships that-
EI: They'll make you question whether he's really willing to wait.
KH: It's another side of Cameron that he's been wanting to show ultimately, hopefully, with Kirsten. But in this instance it's with someone else.
And how is Kirsten dealing with all these new developments?
EI: She's feeling really emotional about everything. One of my favourite things to shoot this season was that scene between [Cameron] and Kirsten at the end of the last episode where he really puts it out on the table and she goes, 'I don't know.' I think that's the thing. She doesn't really know yet how she feels. She doesn't know how she should feel. So it's kind of a learning curve for her.
RELATED: Stitchers: Emma Ishta on the Biggest Emotions Kirsten Will Face
What's the biggest thing the team has had to deal with when it comes to Kirsten's feelings?
KH: It's definitely the shock at first, when you see this new skin that I'm in and her completely new persona. But with that we almost kind of pave the way for Camille and Linus' characters to grow up because of the instances that happened in the finale between both of us and how we came out of it. And I don't think we're showing necessarily as an example that we came out of it differently, but I definitely think that it rubbed off.
EI: And Camille has an arc this season, which just started this last episode and will continue the rest of the season.
KH: Everyone matures throughout, for sure.
When I spoke to Jeff about the premiere, we talked about revealing the true purpose of the Stitchers program so early this season. Were you surprised by that?
KH: We were and we weren't, at the same time. It's just the tip of the iceberg.
EI: We haven't been taking it too much at face value. There's a lot more to be discovered about the Stitchers program and who knows if he's telling the truth? He's a very sneaky guy!
KH: We hope for more seasons so we can really uncover that truth as we go on.
RELATED: Stitchers Season 2 Premiere: Who Really Died, and a Surprising Discovery
How about the reveal that the whole Halloween episode was in Cam's mind?
KH: That was something that we had no idea.
EI: We knew when we started filming again. Jeff let us in on the inside.
KH: That [the episode] was definitely a dream. But in the moment, we thought those moments between us were real.
EI: We thought it was a fun episode that maybe fit somewhere halfway through the first season.
KH: It really disappointed fans because we finally had that moment and we had to take a few steps back from it and realize they haven't gotten that close yet. But stick it out.
If you could stitch into any TV character, who would you stitch into?
KH: Maybe Kramer from Seinfeld, just to see what that crazy guy's got going on in that head of hair.
EI: Someone from Game of Thrones?
KH: Maybe someone who does something with dragons, see what that life's like.
EI: I wouldn't mind flying some dragons. I think I could do that.
Watch the cast talk about Season 2:

Stitchers, Tuesdays, 10/9c, Freeform.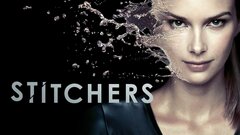 Powered by