Watch My Show: 'Real World' Boss Says 'What's Wrong With Hot Tubs and Hook Ups?'
Jon Murray created MTV's The Real World with his late partner, Mary-Ellis Bunim in 1992. The series, which ushered in today's reality TV explosion, took the documentary form and shook it up by by casting the show's real life subjects for their diversity and charisma, art directing their living environment and story editing the episodes so they played out like a scripted drama. Lately the series has added a theme to each season. The 31st seasonhas the theme "Go Big, Or Go Home." We asked Jon, whose company also produces Keeping Up With The Kardashians (E!), Project Runway (Lifetime), and Born This Way (A&E) to fill out our showrunner survey and explain why we should watch the new season.
I've got room in my life to watch just one more show. Tell me why it should be yours.
Because Real World, even 31 seasons later, is still one of the few reality shows that is true reality, meaning that other than the missions on this season that push our cast out of their comfort zone, how the roommates spend their time, and what they say to each other is completely unprompted by the show's producers.
RELATED: MTV Announces 14 New Shows—Including A Documentary Series From Zac Efron
Who should be watching?
Anyone who loves to watch what happens when people of different backgrounds–race, social economic, religion, sexual orientation–live together in a pressure cooker that forces them to justify the stupid stuff they say to each other.
What happens if we don't watch your show?
You'll feel really left out when you hear your friends and co-workers talking about the crazy s— that happened on the latest episode.
What's the best thing someone has said or written about your show?
It's so good it must be scripted.
What's the worst thing?
That it is only about hot tubs and hook ups.
Who was right?
My response to the criticism is: what's wrong with hot tubs and hook ups? I mean, all this is part of being young and there is no reason why you can't have the fun party aspect along with the serious coming of age issues that come up on Real World.
What's an alternative title for your show?
Live and Let Live.
Give us an equation for your show.
American Family (PBS landmark doc series) + American Graffiti x every music video on MTV.
Come up with a premise for the spin-off.
We did twice. Road Rules (14 seasons) and The Challenge (28 seasons).
What credit of yours would you prefer we forget?
None, I'm even proud of my Bad Girls Club Executive Producer credit.
Tell me one thing about your cast.
They can't help being themselves.
What other series would you most like to be an executive producer on?
Survivor.
Let's scare the network. Tell us an idea that didn't make it on to the screen.
It's not nice to scare the network.
RELATED: MTV's Scream Gets A New Premiere Date—Plus a New Promo (VIDEO)
Finish the sentence: "if you like _______, you'll love our show."
THE MESSINESS OF YOUTH
Pick another show–any show–to start a fake feud with.
The Real Housewives. They stole part of our title. Just hope they don't throw a table at me.
What other show would you like to do a cross-over episode with and how would that go?
Naked and Afraid. Our cast look better naked than the folks on that show.
How will your show change the face of TV as we know it?
It already did in 1992, but that doesn't mean we don't continue to try to evolve our series each season.
Real World: Go Big or Go Home, Thursdays, 10/9c, MTV.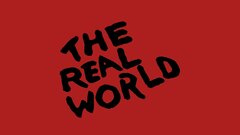 Powered by