'The 4th Awakens' in 'Sharknado's' New Poster!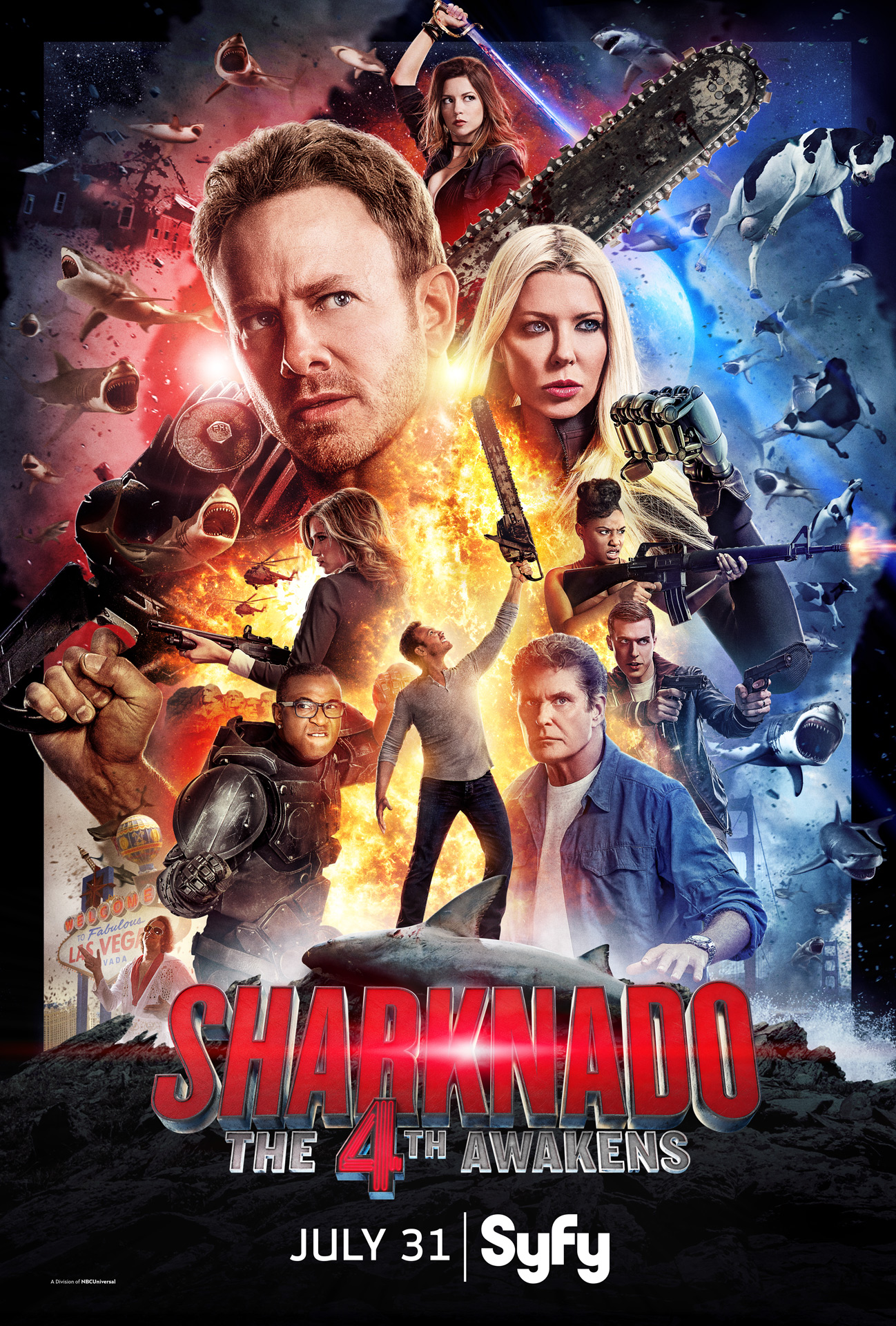 The 4th is wrong, er, strong in this one. Syfy has unleashed the poster art for Sharknado: The 4th Awakens, this summer's installment of the insane and insanely fun franchise that mixes two great tastes—sharks and 'nados—in one bonkers TV-movie.
And it is delicious. Although we worry about that flying heifer. (Is there a cowtastrophe, too?!)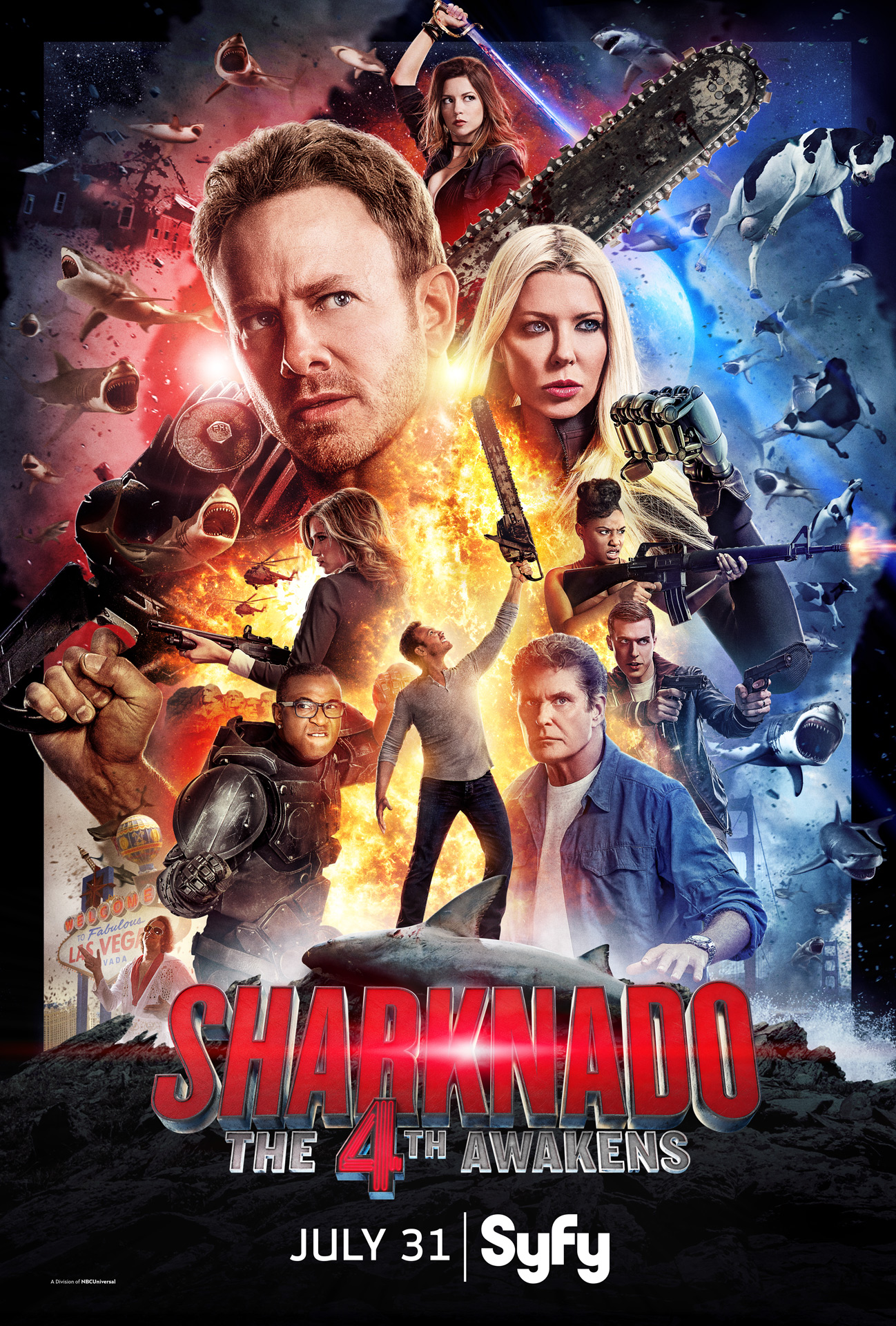 Set five years after last year's third edition, this one finds Ian Ziering's heroic Fin Shepard diving back into action when another killer fish storm strikes, along with wife April (Tara Reid, depending on whether she survived that online #AprilLives or #AprilDies fan vote), dad Gil (David Hasselhoff) and daughter Claudia (Ryan Newman). Tommy Davidson, Gary Busey, Imani Hakim (The Gabby Douglas Story), Disney Channel survivor Cody Linley and full-figure model hater Cheryl Tiegs are also slated for roles, along with a just-released list of cameos too good/cheesy/hilarious not to share with you.
RELATED: And the Next Sharknado Title Is … The 4th Awakens!
—As rocket scientists and astrophysicists, we get Cynthia Bailey (The Real Housewives of Atlanta), Robert Herjavec (Shark Tank) and his Dancing with the Stars "partner" Kym Johnson, former VH1 host (and according to her Twitter bio, "gore whore") Carrie Keagan, T'Keyah Crystal Keymah (In Living Color), and Baywatch vets Gena Lee Nolin and Alexandra Paul.
—The Howard Stern Show's Benjy Bronk shows up as a morning show host, while Millionaire Matchmaker Patti Stanger joins the press corps as a news reporter.
—Dog the Bounty Hunter Duane Chapman gets a job as a chainsaw dealer.
—Dr. Drew Pinsky trades his loveline for a gig as a pastor.
—BET apologist Stacey Dash shames the Windy City as the Mayor of Chicago.
RELATED: Sharknado's Tara Reid Among New Cast of Marriage Boot Camp Reality Stars
—Rascal Flatts' Jay DeMarcus drops the mic to play a manager of the Shark World hotel, where MMA monolith Frank Mir and Slipknot's Corey Taylor work security.
—David Faustino of Married with Children craps out as a Las Vegas gambler.
—Shark Tank-er and QVC maven Lori Greiner stretches as a home-shopping guru.
—And finally, Motley Crue's Vince Neil, Wayne Newton, and Todd, Savannah and Grayson Chrisley (Chrisley Knows Best) all show up as themselves.
Even better? Syfy promises even more cameos to come, so just set the DVR now and wait for the next wave of celebs to be announced before Sharknado: The 4th Awakens premieres on July 31st.
Come on, you know you're gonna watch. Or has this one jumped the shark?