'The Carmichael Show': Jerrod Carmichael Talks About 5 Hot Topics His Show Tackled
Over two seasons, NBC's The Carmichael Show has proven that no subject is off limits: depression, gentrification, gun control, religion and more. As the comedy has established itself—and its handling of hot-button issues has drawn praise from critics—the show's creative team and NBC brass have settled into an efficient working relationship.
RELATED: Jerrod Carmichael: NBC 'Took a chance and a risk' with Our Bill Cosby-Themed Episode
"We are an old married couple," star and executive producer Jerrod Carmichael says. "We can disagree and still get something done. So I think the relationship has evolved in a healthy, fun way." While preparing to take on Donald Trump and the election in its May 29 season finale, Carmichael looks back on some of the most memorable installments so far.
"Protest" (Season 1, Episode 2)
The series addressed the Black Lives Matter movement early in its run with a story about a protest that is held after cops shoot an unarmed kid. "I remember the network being a little nervous," Carmichael says. "And there was a little bit of caution within my staff because you hadn't really seen that [topic covered in a scripted show] on TV. But it meant a lot; I remember just feeling strongly about that episode, and I thought the argument was interesting and balanced."
"Gender" (Season 1, Episode 4)

After Jerrod becomes a Big Brother, he's surprised to learn that his charge, Jordan, identifies as transgender. While Jerrod struggles with how to react, he goes to his family for advice. "That conversation with the family, I think, is us at our best," Carmichael says.
RELATED: The Carmichael Show Is More Than Just the Punch Lines
"Fallen Heroes" (Season 2, Episode 2)
The widely discussed Bill Cosby installment had the family debating if it's still OK to enjoy artists' work after their crimes and personal failings come to light. "The feedback we got was strong," Carmichael says. "I think people started to respect what we were able to do as a show; it was the first time that anyone really saw that and embraced it."
"The Funeral" (Season 2, Episode 3)
When Joe's (David Alan Grier) abusive father dies, Jerrod has concerns that the man's sordid history is being wiped clean post-death. The episode featured Marla Gibbs as Joe's mom. Carmichael's real-life family also made a cameo, and legendary TV producer Norman Lear even came to the episode's taping. "It was one of those special nights where everything comes together," Carmichael says. "I think we made it a really amazing episode."
"Porn Addiction" (Season 2, Episode 12)
In the May 22 installment,Cynthia's (Loretta Devine) reverend reveals he's addicted to porn—which leads to secrets spilling out. Says Carmichael: "It was one of our favorite table reads and one of our favorite tapings."
The Carmichael Show, Season Finale, Sunday, May 29, 9/8c, NBC.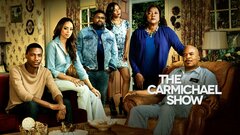 Powered by