'The Carmichael Show' Is More Than Just the Punch Lines
Jerrod Carmichael is all about perspective. It's a word the rising comedian uses a lot as he describes his new sitcom, The Carmichael Show. Loosely based on Carmichael's own life, the comedy focuses on the conflicting points of view from the people around the fictional Jerrod, including those of his therapist-in-training girlfriend (Amber Stevens West), his überreligious mother (Loretta Devine) and his tell-it-like-he-sees-it father (David Alan Grier). We talked with Carmichael about fulfilling his vision for the show—and taking no prisoners in the process.
How autobiographical is The Carmichael Show?
It's autobiographical to a certain extent. I have my parents and I have a girlfriend and I have a brother. It's informed by people I know, and my life is built around people who disagree with me.
In April, you tweeted that the trailer "does not accurately convey the tone or quality of the program." Care to elaborate?
This is [said] with all due respect, [but] with any marketing department, there is a bit of a disconnect, right? You see so many of the sitcoms and [they're] marketed the same way with the intention of reaching the broadest possible audience. So what happens is the [trailer] just becomes a series of punch lines…and I wouldn't watch that version of a show. But I know that's not what the show is.
What is the show, then?
My hope is that it feels like something that gives commentary, the way M*A*S*H did in the '70s. We have a gender-identity episode. We have an episode about the #BlackLivesMatter protests. It's important for us to talk about these things.
As a comedian, has having your own series always been the dream?
Yes, honestly. I think the sitcom at its best gives a perspective better than anything else on television because it's so much about characters. I connect with that and have always wanted to do an NBC show­—NBC Thursday nights has always been the dream. We're on Wednesdays, so we've got something to work toward! [Laughs]
The Carmichael Show, Series premiere, Wednesday, August 26, 9/8c, NBC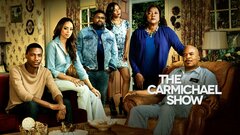 Powered by