In AMC's 'Preacher', a Holy Man Saves People By Controlling Their Minds
God is among us. Seriously, he's abandoned Heaven and is hiding out among us mortals in AMC's latest comic book adaptation, Preacher. And there's only one man who can find Him: Rev. Jesse Custer (Dominic Cooper), mixed-up minister of screwed-up Annville, Texas, where the folks are rich in poverty and poor on integrity.
Jesse is possessed by a mysterious force (which is shaped like a comet and shrieks like a newborn) that came hurtling out of the sky and gave him the power to control others' minds. At least he's going to try to do some good with it. "Jesse, in his most simple form, is a terribly complex man," Cooper says. "He's fighting so many demons and trying his hardest to appease his guilt over the past—a past that was terribly influenced by the church."
Still, the last time Jesse found God, it was at a bottle's bottom. So, he's going to require a little help locating the Lord and saving Annville's souls. Luckily, he's got sidekicks: his ex-girlfriend Tulip (Ruth Negga), a stunning assassin, and his new buddy Cassidy (Joe Gilgun), a whiskey-swilling, foul-mouthed Irish vampire. Yep, there's a vampire. Plus, he'll be joined by two mysterious angels, Fiore (Tom Brooke) and DeBlanc (Anatol Yusef), and a teenager with a disfigured visage that's earned him the nickname Arseface (Ian Colletti).
RELATED: Preacher Table Read Teases 'Craziest TV Show Ever Made' (VIDEO)
Preacher wasn't exactly considered adaptation material during its 75-issue comic book run in the late 1990s. Created by Hellblazer scribe Garth Ennis and artist Steve Dillon, and published by DC Comics' adult imprint Vertigo, it was controversial even among the graphic novel crowd for its depiction of religion, sex and violence. A character named Arseface certainly didn't help—nor did Jesse's half-naked homicidal granny, who would lock him in a submerged box for cussing; a chicken-molesting henchman; and all the grotesque killings. (If it bothers you to see a man's radius protrude from his broken arm, Preacher might not be the show for you.)
"Can you imagine picking up that comic for the first time ever in the 1990s as a teenager?" Cooper says. "It would have been absurd. Between Jesse's grandmother and the underwater coffin, you're gobsmacked at every page you turn. I completely understand why it became a cult classic very quickly."
In 1998, Ennis sold the comic's film rights to Electric Entertainment, who tried in vain to turn it into a feature starring James Marsden. In 2006, HBO began developing Preacher as a drama series, but the net's execs eventually demurred at its content. Two years later, Sony's Columbia Pictures announced it was making a film adaptation directed by Oscar winner Sam Mendes. That project got as far as the script stage before Mendes dropped out.
Then, just as a screen version of Preacher seemed dead in the holy water, Sony and producer Neal H. Moritz met with This Is the End actor-director Seth Rogen and his frequent collaborator Evan Goldberg, who had been trying to adapt the comic for years. They partnered with Breaking Bad producer Sam Catlin and AMC and in February 2014 revealed plans for a Preacher pilot written by Catlin and directed and produced by Rogen and Goldberg. It was quickly picked up for a full season.
RELATED: AMC Sets Premiere Date for Ride with Norman Reedus
"I believe the expression is 's–t rolls downhill,'" Rogen says. "We'd been trying to make Preacher for almost 10 years. But it was always in the hands of someone who was more powerful and rightly more likely to make a good version of it than we were. Then we proved ourselves with a few movies, and finally, we were in the right place at the right time—which will happen if you just wait a decade."
If Preacher's dusty trails look familiar, that's because it films on the same New Mexico lot that Breaking Bad used. But this isn't just any dry Western. Rogen and Goldberg's vision has several inspirations: Friday Night Lights, Kill Bill, Badlands, A Fistful of Dollars, South Korean revenge thriller I Saw the Devil and Indonesian martial arts film The Raid: Redemption are just a few. "We wanted every one of Preacher's different stories and different locations to have a slightly different camera style," Rogen says. "Not only on a story level do you not know what's going to happen next, but on a stylistic level you don't know what's coming."
The pilot alone has three very different action sequences. We meet Cassidy 30,000 feet above the earth serving drinks on a corporate jet and laying waste to six vampire hunters like James Bond. Tulip is introduced taking out two men in a speeding car. And Jesse gets in a good old-fashioned bar fight.
It's all made more impressive by the fact that the actors did most of their own stunts. "If Tom Cruise can do it at 4-foot-f—ing-2, I can," Gilgun says. "I'm a working-class lad who came from nothing. This is the most I've ever been paid in my whole life. If they want me to fall through the window with no pants on, I do it." Negga's favorite scene is when Tulip and two kids build a rocket blaster out of tin cans and moonshine. "We had so much fun!" she says. "We were concentrating so hard, I think for a minute we thought we were actually making a bazooka."
Something else viewers might pick up on: Cooper and Negga are a couple off screen, which the producers claim they knew nothing about. "I learned that Ruth was in Preacher and I said, 'Are you joking?'" Cooper admits. "We'd just done a short film together and a play and [the film] Warcraft. It was complete coincidence and a great one, because it's working."
Preacher, Series Premiere, Sunday, May 22, 10/9c, AMC.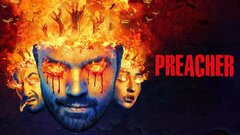 Powered by