AMC Unveils First Look at 'Preacher's "Arseface" (PHOTO)
It's a face only a preacher could love.
The cast and producers of AMC's highly anticipated new series Preacher, based on the comic book series by Garth Ennis and Steve Dillon, revealed a first look at the fan-favorite character Eugene "Arseface" (played by Ian Colletti) during WonderCon in Los Angeles on Friday night.
RELATED: 9 TV Devils Who Make Bad Look Good
From executive producers Seth Rogen, Evan Goldberg and Sam Catlin, the series follows a West Texas preacher named Jesse Custer (Dominic Cooper) who discovers he possess a highly unusual and mysterious power. Together with his ex-girlfriend Tulip (Ruth Negga) and a brash Irishman named Cassidy (Joseph Gilgun), the trio face off against a variety of supernatural forces.
Take a closer look at "Arseface" below.
Preacher premieres on Sunday, May 22 at 10/9c on AMC.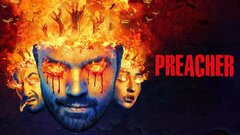 Powered by