AMC Sets Premiere Date for 'Ride with Norman Reedus'
Strap in: The Walking Dead's Norman Reedus is hitting the open road this summer.
AMC announced the new unscripted series Ride With Norman Reedus will premiere on Sunday, June 12 at 10/9c. Each hour-long episode will follow the actor and motorcycle enthusiast as he travels across the country on his bike exploring quirky destinations such as tattoo parlors, mechanic shops and roadside eateries. Reedus will also be joined by some famous faces on his journey, such as Easy Rider star Peter Fonda, director Robert Rodriguez and actor Balthazar Getty. Stops on the map include North Carolina, Florida, California, Nevada, Texas and Louisiana.
RELATED: Norman Reedus Promises You'll Love the Daryl Scenes on The Walking Dead
AMC will also debut a new teaser for Ride during this week's new episode of Fear the Walking Dead, airing on Sunday, April 24 at 9/8c.
While fans of the AMC hit zombie series have the opportunity to sink their teeth into more Reedus this summer with Ride, the fate of his Walking Dead character is still up in the air. Last we saw tracker Daryl Dixon, he and his fellow survivors had been captured by the show's newest villain, Negan (Jeffrey Dean Morgan), who used his baseball bat wrapped in barbed wire named "Lucille" to kill an unknown member of the group. But even with this new reality series, we hope Reedus doesn't ride off into the sunset anytime soon.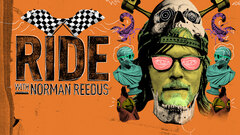 Powered by