'Person of Interest's Final Season: 'Every Episode Feels Like a Finale'
Nearly a year to the day since its last episode aired, CBS's conspiracy thriller Person of Interest finally returns for a fifth (and final) season. The action picks up shortly after the closing moments of Season 4, which saw clandestine crusaders Harold Finch (Michael Emerson), John Reese (Jim Caviezel) and Root (Amy Acker) making a hair's-breadth escape from a siege by the sinister forces of Decima Technologies. Even worse, the Machine—the treasured all-seeing, artificially intelligent supercomputer that helps them save lives—has been put on ice and was literally downsized to fit inside a briefcase.
As the show kicks off its 13-episode swan song, the stress of staying alive and unseen by Samaritan, the rival artificial intelligence operated by Decima, has worn on the team. "Our characters haven't been living. They've been hiding," executive producer Greg Plageman explains. "Eventually that situation becomes untenable. They have to break out, or they're going to get caught. And all of those things coalesce this season in terms of Finch's character and what he decides he has to do."
RELATED: Person of Interest Bosses Talk Creative Freedom in the Final Season
Helping him decide is Root, whose evolution from Finch's ruthless antagonist to indispensable ally has been one of the series' most engaging subplots. "They're really pulling out all the stops to show what they can do in 13 episodes instead of 23," Acker says while on a well-needed break in between scenes at a heated location shoot under the Manhattan Bridge last November. "Every episode feels like a finale."
The 10th of those (airing May 31), which also marks the series' 100th, will be "a real turning point with everything that's happened with Samaritan, with Harold and me," Acker says. The stakes of the battle are higher even than life or death for the messianic cyber-crusader. "Root is terrified because the Machine is her god and the only hope for the salvation of the world against Samaritan," she says. "It's also her only hope to find Shaw," the black-ops badass played by Sarah Shahi.
Yes, Shaw will return from her protracted abduction by Decima—a plot twist designed to accommodate the actress's maternity leave. "It was never really a goodbye," Shahi says of her hiatus. "It was always, 'Let me pop out a couple of babies and see how I feel.'" And when it was time to return for the May 16 episode, she was raring to go. "Shaw comes back in a big way," she says. "The episode is very dark, gritty, physical—all the reasons I took this role."
After her extended stay in Decima's clutches, however, Shaw's erstwhile comrades wonder if they want her back. "They don't know if I've been turned, if I'm now undercover for Samaritan," she says. "It's heavily suggested that their brainwashing worked."
They're not the only ones who are feeling distrustful, says Kevin Chapman, who plays ever-beleaguered NYPD gumshoe Lionel Fusco. As the new season opens, Chapman says, "Fusco feels kept out of the circle. He has a lot of unanswered questions, so he starts to conduct some investigations of his own." That will no doubt prove an irritant to Reese, who last season decided that he could both keep a low profile and continue to masquerade as Det. John Riley in order to respond to the titular interesting persons (the so-called "numbers," either victims or perpetrators of crimes) that the Machine spits out.
RELATED: Shaw and Root Reunite on Person of Interest (PHOTO)
In Season 5, Finch and Reese "see less of one another and take each other more for granted—and I mean that in a good way," Emerson says. With them operating on parallel but complementary tracks, he adds, "Finch just assumes that Reese is out there taking care of business and the numbers will be followed up on without his micromanagement."
With the end of POI's long, strange trip now in sight, Emerson reflects on Harold's evolution over 100-plus episodes. The upshot? It's complicated. "He's less mysterious and less cold and he has more of a distinct personality." At the same time, and perhaps more to the dramatic point, he adds, "We're beginning to see a darker side to Mr. Finch—his motives and the means he's willing to embrace." Which is not to say he's reckless: "He's still on that same suicide mission, but it's more nuanced."
Wait…suicide? Creator and executive producer Jonathan Nolan won't spill any spoilery beans, but he issues an important reminder: At the end of the pilot, Finch said to Reese, "Sooner or later, both of us will probably wind up dead." Nolan then ominously adds that the working title of the last episode was originally "Everyone Dies Alone." And though CBS has decided not to renew the show, the producers are pursuing other avenues. "We've still got a lot of great storytelling to do," Nolan says. Apparently the Machine isn't ready to be shut down.
Person of Interest, Mondays and Tuesdays, 10/9c, CBS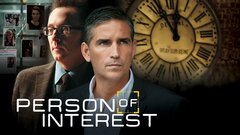 Powered by