'Person of Interest' Bosses Talk Creative Freedom in the Final Season
Person of Interest returns for its fifth and final season on Tuesday, May 3—a fact that was confirmed months after production on the series concluded.
However, thanks to the reduced episode order (13 installments, down from the normal 22/23) and months of silence about where the show might land on CBS' schedule, the creative team opted to give the drama a proper ending just in case. "It became abundantly clear to us that we were a part of a business model that did not work for the network anymore, despite loyal fans and the better part of 10 million people watching every week," executive producer Jonathan Nolan acknowledges. "We read the writing on the wall. We're in a very fortunate position to be able to write the end of the show, and write it in a way that it's not the very end of the story."
"I think with this many characters and a world as big as the one that we created with the show, you never say never," Nolan continues. "But we wanted to definitively end this chapter, this version of the show."
Which means while the show is over at CBS, the producers aren't completely sold on shutting the door on the world they've created—in some form or another. "There's always room for that," executive producer Greg Plageman says. "Never say never with a movie or a reprise of the show. Perhaps rebooting in a different form. It's always possible."
RELATED: Shaw and Root reunite on Person of Interest
The premiere picks up (for the most part) moments after viewers last saw Team Machine, as Reese (Jim Caviezel), Finch (Michael Emerson), and Root (Amy Acker) are on the run from Samaritan operatives, trying desperately to protect the compromised Machine. And as the writers set out to map out this final arc, knowing the end was near "really freed us up, creatively, because anything you were thinking of doing or wanted to do—a departure episode that completely flipped the script of the point of view of the episode—we said bring it on," Plageman says. "You'll be able to see that, rather quickly, within the first few episodes. And then particularly, down the stretch, with the last few episodes, we really go for it. It really feels like, to me, the best version of what a network show can pull off in terms of a larger serialized element. The sheer volume of episodes sometimes precluded you from doing a really serialized show. But we felt this season, with a reduced order, we really had license to go for it."
"In Episode 12, which I wrote with Erik Mountain and directed, we imagined a world where what if Harold Finch had never created his Machine?" Plageman continues. "What if it never happened? That was a lot of fun, extrapolating what that world would have looked like if Samaritan had emerged and become more dominant. And also, what's really fun is bringing back some people we missed from the past and seeing what would have happened to them."
The final season will include a lot of familiar faces from the past, but "I think we brought everyone back with the intention of killing them all," Nolan laughs. "They reappear and then get tagged with a bullet. We got a lot of our favorite people back. Not all of them, unfortunately, schedules didn't always come together. It's been so thrilling to work with so many of these actors, and it was so amazing in the final season to get so many of them to come back as cameos, despite knowing they were going to be killed off—they were all willing to come back and play."
RELATED: What to Binge Watch: Person of Interest
"We brought back some that we [previously] killed, too," Plageman adds
Now one of the lingering questions is what kind of audience the show will draw in its final run. (After the show's season premiere next week, CBS will air new episodes on Monday and Tuesdays at 10/9c.) Though Person of Interest has been off of CBS for nearly a year, the series has found a new audience in its absence: it started syndicated run last September, and the previous seasons finally became available on Netflix.
The fan love—both new and established—has not been lost on the writers. "It's purely anecdotal for us [but] we found out about a woman who started a website to save the show, a petition to the network and the thousands of people who have signed up to do that is flattering and endearing," Plageman says. "For me, the big win was when my 16-year-old son insisted he get the DVDs of the season and binge watch them all at once. And then some of his friends at school started getting jealous and started asking him how the show was going to end. We must have done something right if 16-year-old boys are starting to clamor for the show."
Person of Interest, Season Premiere, Tuesday, May 3, 10/9c, CBS. Regular Airings Mondays and Tuesdays at 10/9c on CBS.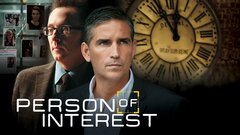 Powered by