'Scandal's Scott Foley Previews Season 5's Explosive Final Episodes
No one would accuse creator Shonda Rhimes of playing it safe in a season where Olivia (Kerry Washington) had an abortion, broke up with Fitz (Tony Goldwyn), murdered the former veep and let on-off lover Jake (Scott Foley) marry another woman. Which means fans should steel themselves now for the final episodes of Season 5. Foley, whose character was recently revealed to have killed his own father, filled us in on three of the drama's upcoming developments.
1. The election continues to be pivotal. The May 5 episode, entitled "Trump Card," finally reveals the Democratic and Republican presidential nominees, and Foley hints one character will make a stunning power play by the end of the season: "Oh my God, Cyrus [Jeff Perry] is gonna blow your mind," he says.
2. Olivia's dad, Rowan (Joe Morton), remains determined to see Jake become a candidate's vice-presidential pick, but Jake is "conflicted" about his latest mission. "He feels a responsibility to Rowan and their grab for power," the actor explains. "But in Jake's heart, that's not what he wants." He might have bigger worries, though: "During the finale, Jake's life is in grave danger."
3. Jake isn't through asking Olivia for help. She may have refused to stop his wedding, but Jake still wants to stand in the sun with her. Says Foley, "He has these desires to break away, and in the penultimate episode, he sends a message to Olivia saying, 'I want to escape.' In the finale, we see Olivia's attempt at that."
Scandal, Season Finale, Thursday, May 12, 9/8c, ABC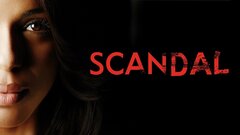 Scandal
where to stream
Powered by