'K.C. Undercover' Reunites 'A Different World's Stars Jasmine Guy and Kadeem Hardison
Their college days may be behind them, but it didn't take long for A Different World co-stars Kadeem Hardison and Jasmine Guy to flashback to their time at Hillman—albeit briefly—on Sunday's episode of K.C. Undercover.
RELATED Jasmine Guy Guest Stars As K.C. Undercover Prepares For A Different World
The reunion resulted after K.C. (Zendaya) successfully reunited her newly-discovered cousin Abby (Pretty Little Liars' Kara Royster) with her Aunt Erica (guest star Jasmine Guy), her mother Kira's (Tammy Townshend) long lost sister. Unfortunately for the Coopers, Ernie and and Craig (Kamil McFadden and Kadeem Hardison)—well, mostly Ernie—had suspected that something was amiss and managed to crash the family reunion.
Of course as the clip below shows, this led to a different kind of get-together—one that allowed Hardison and Guy to not only acknowledge their time as lovebirds Dwayne Wayne and Whitley Gilbert, but also gave Hardison the chance to don his iconic glasses.
RELATED: Which of these TV colleges are worth the application?
Sunday's episode marks the beginning of a three-episode arc for Guy's character, which will conclude on April 24th, with that last episode featuring another nod to Guy and Hardison's time at Hillman.
K.C. Undercover, Sundays at 8/7c, Disney Channel.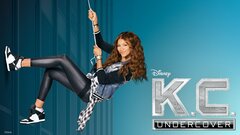 Powered by