Worth Watching: 'Dare Me' on USA, 'Flirty Dancing,' College Football Playoffs
A selective critical checklist of notable weekend TV:
Dare Me (10/9c, USA): "There's something dangerous about the boredom of teenage girls." With that opening line, in (what else) voice-over, a 10-part drama unfolds that feels like the darkest version imaginable of Bring It On. With competitive cheerleading as the backdrop, this adaptation of a Megan Abbott thriller begins with the arrival of a highly touted new coach (Willa Fitzgerald) in a depressed Rust Belt town that's pinning its hopes for funding a new stadium on the rising fortunes of its cheer squad. Which would be uplifting in a Friday Night Lights way if everyone weren't so damaged — especially team captain Beth (Marlo Kelly), who feels threatened by the arrival of the new boss lady, especially when she instantly wins over Beth's BFF, the ambitious and less-privileged Addy (Herizen Guardiola). If the ominous voice-overs weren't enough, glimpses of a bloody incident foreshadow that this tale of eroticized teen angst isn't going to end well.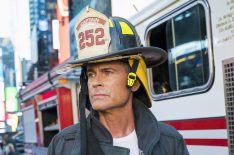 See Also
Plus, find out when the winter premieres of 'Almost Family' and 'Prodigal Son' will air.
Flirty Dancing (8/7c, Fox): The first reality show of the new year gets a special preview before officially launching on New Year's Day, and it's about as substantive as its title promises. It's pretty much So You Think You Can Blind Date, in which singles hope to dance their way into each other's hearts. Adapting a format from the U.K. — as if Brexit weren't enough to look forward to — this dating show primes its participants for their first encounter by teaching them choreography (in the opener, from So You Think You Can Dance veteran Travis Wall), which they perform before even saying hello to each other. The twist: the subject has to choose between two dance partners, gauging compatibility on who has the best moves. At least it moves faster than your average season of The Bachelor.
See Also
Find out where and when to watch all the bowls, big and small.
College Football Playoff Semifinals: This is no holiday weekend for four top-ranked college football teams, squaring off in high-stakes matches. First up: Atlanta's Chick-Fil-A Peach Bowl (4 pm/3c) with No. 4 Oklahoma Sooners facing No. 1 LSU Tigers. Followed by the PlayStation Fiesta Bowl in Glendale, Arizona, pitting the No. 2 Ohio State Buckeyes against the No. 3 Clemson Tigers.
See Also
TV shows that are acclaimed are not always popular, and vice versa, but which shows have divided critics and audiences the most?
Inside Weekend TV: If you missed it on FX: The third season of Pamela Adlon's marvelous slice-of-family-life comedy Better Things begins streaming on Hulu, starting Saturday. … A special edition of NBC's Meet the Press (Sunday, check local listings), titled "Alternative Facts: Inside the Weaponization of Disinformation," tackles the troubling topic of how knowing falsehoods and fringe conspiracy theories have sown chaos in the world of journalism and public discourse. … Another dose of political controversy, as FX's The Weekly presents "The Gallagher Effect" (Sunday, 10/9c). This investigation by New York Timesreporters culls from hours of exclusive videos, including interviews with Navy SEALs who served with Eddie Gallagher, whose war-crimes case led to a high-profile clash between the Navy and the current commander in chief. … Travel Channel goes the true-crime route in Lost in the Wild (Sunday, 11/10c), in which hosts J.J. Kelley and Kinga Phillips revisit cold cases involving travel adventures gone wrong. First up: a journey to Panama to look into the disappearance of two Dutch women hikers who vanished off a trail in 2014.