'Alaskan Bush People' Episode 3: 'Storm's Fury' (RECAP)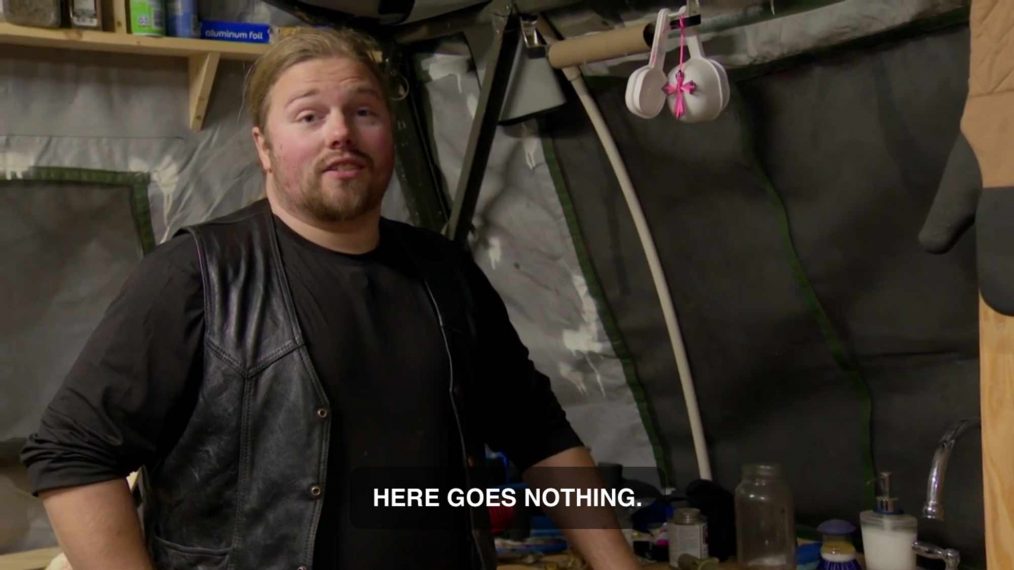 On the Alaskan Bush People episode "Storm's Fury" (December 18), the first major storm of the season threatens the family's progress. With a big bush wedding coming in days, the Browns race to obtain and haul much needed water tanks before the full force of the storm hits.
I really feel like taking a hard pass on this episode. Like I just want to pull a Billy and type "faith" and "family" a bunch of times, go back to bed, and let my kids handle the rest of this recap:
But I am like the Browns in that I persevere through the fake hurdles littering my path.
We open with Gabe preparing to saw off his leg some benches for his upcoming wedding ceremony.

Gabe and Raquell were legally married months earlier, but they have to stage this Bush ceremony for TV. They actually had planned to get married in the spring, but an outbreak of Billy Brown Syndrome forced them to change their plans. So if Gabe's sawing benches for his wedding guests looks familiar, it's because he already did that. What happened to the benches he already made? I feel bad for the trees felled in the Browns' idiotic pursuits.
It is early summer on Brown Star Ranch. The Browns are walking around their land to discover which of their rented livestock just up and gave birth out of thin air.
Billy gathers the family around and tells them that their work on the ranch never ends. As soon as they complete one dull, tedious storyline, there's another dull, tedious storyline they have to work on for next week's episode. Now that they have the windmill to pump water, Billy commands them to find a means of storing and distributing the precious water.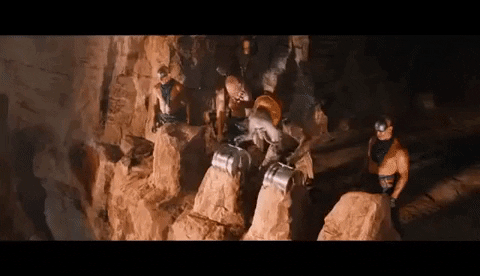 Billy tells the kids to get to work. His ass has an important lunch meeting with the couch.
Noah is already thinking of ways to waste all the water. Since bureaucracy has forced Noah to put his castle construction on the back burner, he wants to make his tent more hospitable for his whiny wife and newborn son. She Who Will Not Be Named and young Elijah have been living in town, because even pretending to live on Brown Star Ranch seems too much like child endangerment. Noah's going to build a "luxurious Bush shower" so his wife can wash away the stench of her poor life choices.
BLACK SCREEN OF FAKE DOOM!
Explain to me how that morning the weather took a "dramatic turn" a few days from now? The Bush Space-Time Continuum works its magic again.
Immediately, all projects must be fast-tracked because of Fake Urgency. Plus, if this killer storm of death is going to destroy Brown Star Ranch, they need to get the water system up and running so that the storm can destroy it.
Gabe and Bam go to the junkyard in search of water tanks. They've come to do business once again with Rory, who seems like he'd be BFFs with Billy.
Rory has some fiberglass water tanks that are over on his neighbor's land for some reason. They drive over to check them out.
Yes, those are fiberglass tanks, all right. Bam is very fussy about the fiberglass and its itchy properties. He repeatedly warns Gabe about Respecting the Fiberglass.
Gabe just ignores Bam. Besides, Gabe likes being covered in fiberglass. It keeps him warm in winter and cool in the summer.
Rory claims he paid $500 for each of the tanks (B.S.!) but he'll be willing to sell both of them for $500. Depreciation, you know. That's still too rich for the Browns' blood. Bam makes a counteroffer of $250 and Gabe's labor. Rory accepts. I hope Gabe is put to work removing Rory's toxic waste the whole summer.
Rory has a rig to help load the two tanks onto the Browns' flimsy trailer, and they're off. I'm pretty sure they just stole two water tanks from Rory's neighbor.
Despite all of his Respecting the Danger, Bam decides to let Gabe drive. Gabe's an excellent driver. Dad lets him drive slow on the driveway.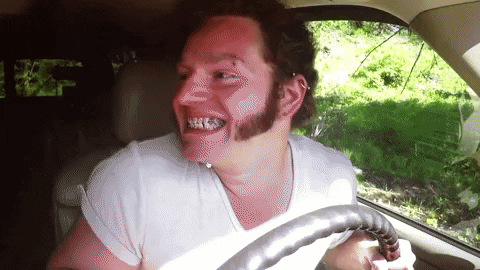 Gabe says he drives like Tina Turner sings "Proud Mary" — nice and easy at first, then nice and rough at the end. OK, then.
The tanks are transported up the hill without incident. Sorry. Maybe next time.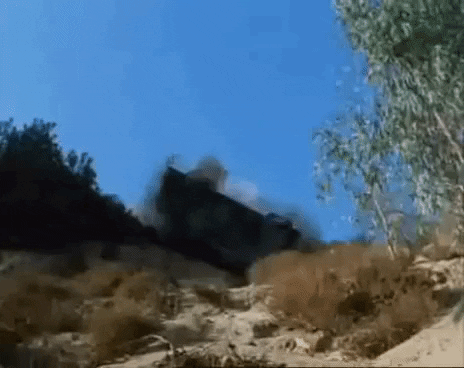 But wait! They have to unload the tanks from the trailer, so there's still the potential for disaster. That potential only increases when Bear decides to help out. They have to get the tanks safely off the trailer without damaging them or letting them roll down the hill into Brutus the bull's pen.
Alas, is not to be. Gabe and Bear are able to tip the tanks off the trailer without damage or personal injury.
But wait! Bear decides to climb inside one of the tanks. He yells and the echo inside the tank hurts his ears. If I were Gabe (and thank the Good Lord I'm not), I'd totally push that tank down the hill with Bear inside it. Another EXXXXTREME opportunity wasted.
Back at Noah's tent, She Who Will Not Be Named arrives with young Elijah. Noah is building an addition to his tent, and She Who Will Not Be Named wants to pretend to help. She squeezes herself into her work clothes, lifts some lumber and occasionally says some annoying stuff. I love how She Who Will Not Be Named was so thrilled about living the Bush life, but now Noah has to do everything possible to protect his delicate flower from it. "So my wife went to Alaska, got Tarzan, and now we're settling here in Washington," Noah says.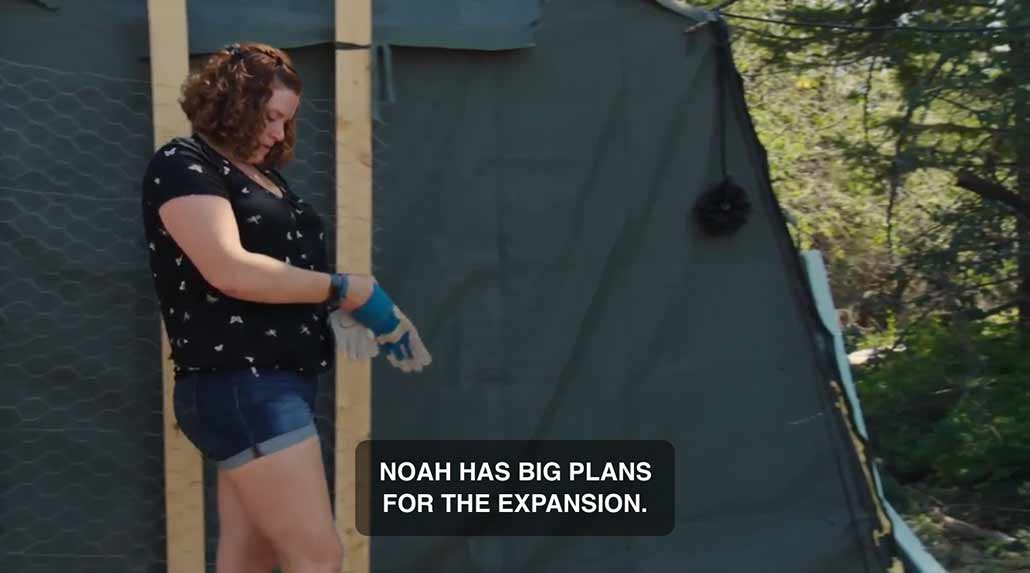 Noah's really going overboard with this whole provider thing. He says he wants to give his wife "more than anyone else could ever dream of." Noah's ability to provide anything for his wife and son stems entirely from Billy and this horrid TV show. How is Elijah going to feel when his parents have to find real jobs?
With the 100-year storm fast approaching, Birdy and Rainy are tending to the highest-priority tasks, such as…painting pretty flowers on the water tanks.
Also of the utmost importance is the luxurious Bush shower. She Who Will Not Be Named demands water!
Noah will put some his vast Bush plumbing knowledge to work. I do not fully understand the logistics, but water will be pumped from the windmill (which is not yet operational) to the storage tank connected to Noah's tent by about 700 feet of plastic tubing. Gravity will provide the water pressure, and it will be heated by an outdoor electric tankless water heater. I suppose all this theoretically makes sense. I do not know how they plan to keep this water supply from freezing in winter, but since the Browns don't live there in winter (or at all), we don't have to deal with that eventuality.
One water tank needs to be transported from wherever Gabe and Bear dumped it to wherever Noah wants to dump it, and Noah just happens to have the perfect tool for the job.
She Who Will Not Be Named bought Noah a tractor for Fathers' Day!
Wow. Most of us just get neckties, socks, booze, golf balls or something like that for Fathers' Day. But here's She Who Will Not Be Named springing for a John Deere! Despite my Wisconsin upbringing, I do not know the exact year or model of tractor. Based on similar used tractors with front-end loader and backhoe attachments, we're looking at maybe $15,000? I wonder what she bartered for that. I hope she doesn't ride that tractor in her bathing suit.
Gabe assists Noah in loading the tank onto the tractor, and they're off!
After the tank is dropped off, Gabe gets a ride in the loader. He might take a nap in it. The perfect opportunity to dump him in the middle of nowhere.
Oh, yeah. That storm thing.
We meet a new friend in this episode: Fake NOAA All Hazards Weather Radio Voice. The voiceover we hear on the show is not from the official National Weather Service alert broadcast, which uses some very specific voices in its text-to-voice computer system. Someone in the sound department (Cico?) or post-production sound editing (Shout out to Post!) tried to mimic the voice.
The Browns pretend to tie stuff down so it doesn't blow away. Birdy tries to keep the animals from freaking out. Noah pounds a few nails in some plywood and calls it a day.
In the interstitial segment, we see Noah and Bear throwing Gabe a surprise bachelor party at Pastime Brewery Bar and Grill in Oroville. The establishment looks like a fine place to drink, and they have a nice variety of craft beer on tap. (What knowledge I lack about tractors is made up for in knowledge about beer.) Of course, that's all wasted on these three. They shoot pool a little. They play some shuffleboard (poorly, I might add) and they don't even acknowledge how cool that powdered wax on the table is.
The bar's proprietors, Tim and Dianna Naillon, are just happy they didn't trash the place. As far as bachelor parties go, this one is rather low-key.
I suspect that Park Slope traded Pastime Brewery free publicity in exchange for some sodas and a few slices of pizza. Party on.
All Earth's girls breathe a collective sigh of relief.
Oh, yeah. That storm thing again. We don't see any storm. We see no wind. No rain. No lightning. Park Slope couldn't even give us some B-roll storm footage, or show the Browns hunkering down for the night. They didn't even scatter the fake storm debris. It's as though there were no storm at all.
Noah's laboratory tent collapsed, supposedly from the weight of water. There's no mud, no puddles, no standing water other than what's in that wheelbarrow. This is one of the most half-assed fake weather systems Alaskan Bush People has ever produced.
Fortunately, Alaskan Bush People will take Christmas Day off. There's no new episode, but they're re-running some old Bushmas special. A new episode airs on New Year's Day. New year, same old B.S.
Thanks for sticking with these recaps. You guys make this grueling task bearable. I wish you health, happiness and prosperity in 2020!
It's time for this week's edition of "That's Matt!," in which we take a social media look at Matt Brown's sober adventures in Southern California.
Either Matt has come into possession of a tiny bible, or his hand has grown freakishly large.
Join us next time for another edition of "That's Matt!"
Alaskan Bush People, Wednesdays at 8/7c, Discovery Channel