7 'Alaskan Bush People' Episodes That Changed the Brown Family Forever
Season 8ish of Discovery Channel's Alaskan Bush People will soon befall us.
On Sunday, August 19, there's a new episode called "Unbreakable Will" — most likely a review/preview and Lost Footage compilation — immediately followed by the season premiere episode, "Back to the Bush."
It's been a long time since we've seen the Browns on TV. You might need a refresher course on all the old B.S. you've already seen so you're up to speed on all the new B.S. you're about to see.
If you're the masochistic sort, there's a marathon of ABP reruns — most of them have different titles so Discovery can pass them off as "new" — starting on Saturday at 1/noon c and continuing on Sunday. You can also catch up on Discovery GO, which will allow you to binge on every ABP episode until your eyeballs scream out for mercy. And don't forget about those episodes on VHS that your buddy Dave loaned you. He'll be needing those tapes back soon.
But because I care deeply about your dignity as a human being and your emotional, mental, and physical health, I urge you not to waste your summer weekend rewatching old episodes of Alaskan Bush People that weren't even worth watching the first time.
As a public service, we selected and summarized the seven Alaskan Bush People episodes that best encapsulate just how awful this show is:
This Season 1 episode is the very essence of Alaskan Bush People. It's so confusing, so absurd, so and so full of deceit that it even caused the former Alaska Dispatch News to investigate what the hell was going on here. The show claimed that locals in Chitina were shooting at the Browns in the dark of night, this after a bunch of Chitina folks "volunteered" to help the family build their cabin while Billy slept.
"We're told the Browns just decided to pack up, sell the land, sell the SUV and go back to Southeast Alaska by boat, thereby making everything you've watched so far utterly pointless," I wrote in my recap. The Browns and Park Slope came to Chitina, disrupted the community with their production, then threw the local folks under the bus. This episode also had the ridiculous salmon barter for Rainy's visit to the dentist, then was capped off by the family losing everything again when Billy's boat, the Opal, sank at the dock in Ketchikan. The show claimed the boat struck a floating "deadhead" log, when in truth, Billy steered the boat into a floating breakwater. If you needed any evidence that Alaskan Bush People is a farce, you just point to this episode.
This episode introduced us to Hoonah Mayor Kenny Karl Skaflestad and Hoonah junkyard proprietor Kenny Worrell. Mayor Kenny dishonored himself and his office by participating in ABP silliness and was a shameless apologist when it came to Billy's PFD fraud. Skaflestad is no longer mayor of Hoonah, though he is running for a seat in the Alaska state legislature. For his sake, I hope his nationally televised support of people who ripped off the state of Alaska does not bite him in the ass. Kenny Worrell, however, was a beacon of truth and light and hope, and often the only character on this show that I enjoyed watching.
The rancid meat in this foul stew of an episode is the the Brown boys' quest for Mother Ami's grandbabies. While Noah is being a mushy goofball about Minnie from Ketchikan, the rest of the boys head to Hoonah, where they meet several ladies at Misty Bay Lodge and invite them to visit Brownton Abbey. They arrive in a rowboat, and then are subjected to terrible indignities like Bear's obstacle course and Bam's reciting poetry.
Of course, the ladies were recruited by the producers and none of them had any interest in dating the boys. Supposedly one was already married. One was a Hoonah cop. Most of the Brown boys' interactions with women are just awful and offensive. Matt: "Do Bam and I have the same taste in women? Yeah, pretty much. We like 'em with a pulse."
You'll remember this as the infamous "Susie the Matchmaker" episode, in which Mother Ami gets so desperate for grandbabies that she called in Susie Carter of AlaskaMen magazine to arrange dates for the boys. It does not go well. It was also fake. Ramona, the mother of the woman who was set up with Gabe, gave us the details of what went down:
But Susie the Matchmaker wasn't even the worst idea this episode had to offer. After several failures with plastic wrap as construction material, Matt assembled a hut out of old tires he transported from the dump in Hoonah. Noah built a Bush clothes dryer out of an old oil drum. It became known in these parts as the Clothes Incinerator.
In the Season 4ish premiere episode, Billy finally addressed his conviction for PFD fraud in the most infuriating of ways:
The show is dealing with it by having Billy play the victim who's been bullied by the big, bad bureaucratic state of Alaska. "The Browns have homesteaded in Alaska for more than 30 years, but now, Alaska was accusing them of living somewhere else," Our Dear Narrator says through gritted teeth. "I'd never cheat Alaska," Billy says with pants on fire. Then he plays up his jail sentence as an act of altruism, sparing the rest of his family from the slammer. "Just take me. Put me in jail as long as you want," Billy claims to have told prosecutors. "They just wouldn't give up." Also sacrificing himself for the good of the family is Bam, who "demanded that he shoulder the burden of the remaining charges." Billy's playing the Alaska Oppresses the Bush Lifestyle card, blaming paper trails and bureaucracy for the mistake.
Billy is just the worst.
In case this episode didn't piss you off enough, the Browns decide they have to replace the exalted Skiff. Billy's benefactor Paul says he will loan them a new skiff if they can do a fake hauling job towing a junked Suzuki Samurai across Icy Strait. Also, Noah is really excited about moving into the chicken coop so he can impress his fake date, Karryna, a San Diego-area waitress. I'm sure Karryna is really disappointed things didn't work out with Noah.
This episode is a testament to stupidity and futility. It starts with the Browns stuffing raw bacon into shotgun shells, and includes Bear and Gabe destroying the first wind turbine, Matt building an ineffective meat shed, and Noah bringing his girlfriend Rhain to experience all the horrors Brownton Abbey has to offer. Rhain is incredibly phony, but I have to give her credit for taking this thing further than I ever imagined, especially considering how shabbily the Browns treated her right from the start. Weird, but the only thing left standing from that episode is Noah and Rhain's relationship.
Mother Ami is stricken with cancer, and the family has moved to Los Angeles so she can get treatment at UCLA. Matt reunites with Noah in Brownton Abbey to begin dismantling everything that they pretended to work so hard for. Matt has a touching and tearful farewell with Kenny, then proceeds to [WARNING: Gruesome photo] blast his scalp open while playing around with explosives late at night. For all of this show's fakery, Matt has very real, very serious issues. All that real drama then leads to Bear, Rain and Bird arriving in Brownton Abbey to take down the wind turbine that they spent the whole season trying to put up, then completely grossing us out with a butter-eating contest.
The Browns are moving to COLORADO! Colorado is going to be so cool! I can't wait to see all the AWESOME and EXXXXTREME stuff they're going to build in Colorado! And Noah's going to go be a sheriff, you guys! COLORADOOOOOOO! WOOOOOOOOOOO!
Alaskan Bush People, Season 8ish Premiere, August 19, 9/8c, Discovery Channel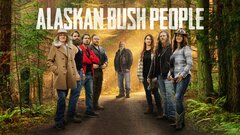 Powered by