Watch My Show: 'Rev Run's Sunday Suppers's Jason Carbone on His Recipe for Success
Putting together a weekly Sunday dinner for a large extended family? For Run-DMC's Rev Run, it's tricky. Tricky, tricky, tricky!
Cooking Channel's Rev Run's Sunday Suppers follows the rapper-turned-reality star (Run's House) as he and his wife Justine prepare a meal for six kids and countless guests. Executive producer Jason Carbone (The Bachelor, The Real World) filled out our "Watch My Show" showrunner survey to explain why you should walk this way to Rev Run's Sunday Suppers.
RELATED: Read More "Watch My Show" Columns
I've got room in my life to watch just one more show. Why should it be yours?
Jason Carbone: With so much negativity playing out on our screens these days, it's nice to have something a show that's fun, positive and shows a family that is functional.
Who should be watching?
Carbone: Anyone who likes to laugh and wants to add some new recipes to their home life.
What happens if we don't watch your show?
Carbone: Your loss, but ultimately nothing catastrophic.
What's the best thing anyone has said or written about your show?
Carbone: "It's so great to see a family that loves each other and enjoys each other's company."
What's the worst thing?
Carbone: How can you not like the Rev and his family? Thankfully, no one has said anything negative.
Who was right?
Carbone: Well since we haven't had anything negative said I think you have your answer.
What's an alternate title for your show?
Carbone: Run's House with Three Recipes.

Give us an equation for your show.
Carbone: Run's House plus three recipes and a sit-down meal.
Come up with a premise for the spin-off.
Carbone: Rev. Run travels to the best restaurants in America and gets some cooking lessons and fabulous meals.
What credit of yours would you like to forget?
Carbone: Don't really have one I'd like to forget.
Tell me one thing about your cast.
Carbone: This is the most normal famous family in America.
What other series would you most like to be an executive producer on?
Carbone: No Reservations.
Let's scare the network. Tell us an idea that didn't make it on to the screen.
Carbone: This isn't the kind of show that scares the network. Sorry.
Finish this sentence: "If you like _______, you'll love our show."
Carbone: Rev Run and his family.
Pick another show, any show to start a fake feud with.
Carbone: Sorry, lover not a fighter.
What other show would you like to do a cross-over episode with—and how would that go?
Carbone: Would love to get Guy Fieri to stop by the house for a meal!
How will your show change the face of TV as we know it?
Carbone: Making a comedic cooking show is something brand new and I love that we are staking new territory.
Rev. Run's Sunday Suppers airs Wednesdays at 10/9c on Cooking Channel.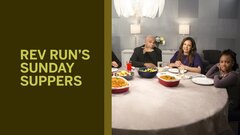 Powered by