Roush Review: Don't Rush to 'Rush Hour'
There's a moment in Hulu's ongoing 11.22.63 miniseries (the finale premieres Monday) when a character remarks, as if winking at the Stephen King acolytes in the audience, "Please, the book's always better. Everybody knows that." The same generally can be said about TV shows cobbled from the high concepts of popular movies, and that's certainly the case with the wan and wearisome series version of the Rush Hour franchise.
CBS dips back into the buddy-cop well with this comedy-laced culture-clash procedural in which motor-mouthed L.A. Detective Carter (Justin Hires trying his best to emulate Chris Tucker's energy, but failing) is reluctantly-at-first yoked to all-business Hong Kong import Detective Lee (sullen Jon Foo, handsome as "an Asian Orlando Bloom," as one character observes, but altogether lacking Jackie Chan's charisma). The stunts, including Hires dangling from a helicopter, and the martial arts executed by Foo are diverting enough, until the plot and dialogue kick in, and a sense of "why bother" quickly sets in.
More Roush Reviews: See What Matt Thinks About Other Shows
Beyond the broad ethnic stereotypes, there's a climactic twist in the pilot episode so transparent that if you don't catch it, you might consider enrolling in a remedial Crime Show 101 course. Rush Hour is meant to be mind candy, of course, but this has all the flavor of a twice-chewed stick of Wrigley's.
Even a pro like Wendie Malick, as Carter's hypercritical police captain boss, can't salvage the relentless mediocrity. (If you want to see a character like this done right, check out Amazon's Bosch, where Amy Aquino's rapport with series star Titus Welliver is engaging, wry, adult and worthy of the source material.)
In a broadcast season that has often felt like one long retread, Rush Hour is the antithesis of a rush. It's a yawn.
Rush Hour, Season premiere, Thursday, March 31, at 10/9c
---
Questions? Ask Critic Matt Roush!
TV critic (and occasional TV therapist) Matt Roush answers viewer questions and concerns in his Ask Matt column each week. Wondering about plots, characters and twists on your fave shows? Submit your query to Matt via the form below: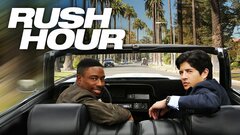 Powered by