Roush Review: 'Bosch' Is a Less Dirty Harry in Season 2
Call Harry Bosch "old school," and this gruff, well-seasoned Los Angeles detective would almost certainly take it as a compliment. Same applies to Bosch, a proudly old-fashioned yet deeply absorbing crime drama that honors as it reflects its source material, an acclaimed series of nearly 20 bestselling page-turners by Michael Connelly. (I've long wondered why no mainstream network had built a show around this character, as iconic in his own way as that dirtier gun-wielding Harry from the San Francisco P.D.)
Now in its second season, Amazon's Bosch reinforces the binge experience as the equivalent of sinking into a good book. Weaving narrative threads from several of the novels, including subplots about city politics and police corruption, the show takes its time following the film noir trail of a pornographer's execution-style murder from the Hollywood Hills to the gambling parlors and seedy strip clubs of Las Vegas, where Harry's ex-wife (Sarah Clarke) and adored teenage daughter (Madison Lintz) live.
More Roush Reviews: See What Matt Thinks About Other Shows
Through the first half of the 10-episode season (all that Amazon made available for preview), Bosch lacks an antagonist as memorably chilling as Jason Gedrick's serial-killing Raynard Waits from last year. But when Armenian mobsters threaten to endanger those our hero holds dear, watch out. You do not want to get on the bad side of Surly Harry, for whom a line like "I'll cut your strings and leave you drooling in a chair" is almost a term of endearment.
Titus Welliver, who's played many a bad guy in his career, including Lost's mysterious Man in Black, is a near-perfect Harry, running both cool (he loves jazz) and hot (he despises authority), refusing to mellow even after a six-month suspension and busting the chops of colleagues who don't measure up: "There's a limit to what you can let slide, even these days."
He leads a splendid and diverse cast of top-notch character actors, including Lance Reddick as the politically ambitious Deputy Chief Irving, Amy Aquino as wry Lt. Grace Billets and The Wire's Jamie Hector as Harry's unflappably dapper partner Jerry Edgar who, in one memorable exchange, challenges Harry's description of L.A. as a desert: "Thought you loved L.A." To which Harry replies, "I do. But I know what it is."
Harry Bosch knows who he is, and it's a pleasure getting to know him better.
Bosch Season 2 is available Friday, March 11, on Amazon Prime Video
---
Questions? Ask Critic Matt Roush!
TV critic (and occasional TV therapist) Matt Roush answers viewer questions and concerns in his Ask Matt column each week. Wondering about plots, characters and twists on your fave shows? Submit your query to Matt via the form below: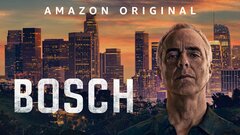 Bosch
where to stream
Powered by