'Rush Hour' Boss Previews Carter and Lee's Journey, This Week's 'Psych'-Like' Hour
For eight seasons, Steve Franks crafted hilarious and quirky crimes on USA Network's hit Psych, as best friends Shawn (James Roday) and Gus (Dulé Hill) ran their own psychic detective agency and helped the Santa Barbara P.D. solve crimes.
Now, Franks is tackling a different kind of crime-solving duo: Rush Hour's Carter (Justin Hires) and Lee (Jon Foo). (Franks joined the show after the pilot was shot to become showrunner for Season 1.) Like Shawn and Gus, the partners have very different methods; however, unlike the Psych pair, the Rush Hour crime-fighters are just getting to know each other.
We spoke with Franks about joining Rush Hour, the Carter/Lee dynamic, filming in Los Angeles, and more.
You're no stranger to writing partners who have very different personalities. However, on Psych, there was the decades of shared history to lean on, whereas in Rush Hour, they're still very much getting to know each other. How has that dynamic been to nail down?
That's one of the trickiest parts. I love to write people who love and support each other right out the get-go. And when you have to do the conflict thing, it becomes a challenge.
You're also dealing with the reality of the Jackie Chan-Chris Tucker relationship [from the Rush Hour film franchise], which has to be completely different; you're not going to replicate that. So you have to use the basic framework of fish out of water, two completely different tactics in their police work, and the guys complete each other, which always seems to be in play.
It was figuring out what the actors brought to it, and what a friendship would give us and what conflict would give us. It was sort of this balancing act all the way through, because you didn't want them to hate each other all the time, and you didn't want them to be too chummy too early. A lot of my go-to tricks for Psych didn't apply here. We tried to create something that was just different enough from the Rush Hour movies, but interesting enough to be unique. It's a challenge. And ultimately, by the end of this season, you get to the point where these guys really love and respect each other. But you have to create the journey to get there.
RELATED: Rush Hour star Justin Hires talks Carter-Lee's partnership
Rush Hour is also in the rare position to be filmed in Los Angeles and take place in the city. How have you been able to take advantage of that?
It was the thing that brought me on-board. The fact that we shot Psych for eight years in Vancouver as Santa Barbara … I had just done a [Fox] pilot with Rivers Cuomo from Weezer that I got to shoot in Los Angeles—the first time I've ever gotten to shoot anything in Los Angeles, and I had the taste of it. It was so wonderful to shoot that. But that was actually Los Angeles shot for some other unnamed city in the world.
With this, when I met up with [Rush Hour executive producer] Bill Lawrence, they had already done the pilot, and they said, "Here's the thing: we're going to be shooting at Warner Bros.—Los Angeles for Los Angeles." That was almost all I needed to know. I felt like a kid in the candy store.
The first thing I did on the first day is we got all the writers together, and what we did was we listed iconic L.A. places we always wanted to shoot at. And then the other side of the board was places in L.A. nobody knows about that we always wanted to shoot at. (Laughs) We got to do everything: the Mulholland Dam, Griffith Park, and the abandoned zoo that's still there in Griffith Park. It was this awesome opportunity that we're shooting in Hollywood Boulevard, and then we're out in places we've never seen. I now feel like this is going to impact every other job I have, because I'm going to want those Los Angeles locations.
Were there any complications shooting locally?
It's still a film-friendly place. My dad was a cop, and he used to work on movie sets, and that's how I sort of got into the business. So I've known it since I was a kid: the restrictions on traffic and all that. Everybody is so happy to have production here and available, that it seems like we can work out things a lot easier.
It's so great to know the place you're thinking about and just go there. We would be in the writers' room, and we'd come up with an idea, and since I'm the kind of person who likes to inject as much fun as possible into everything, we'd start talking about an idea, and I'd be like, "Wait a minute, everybody get in your car and let's go to that place and break the episode, and look at it before we do it." It was really fun to hop in the car and go to Griffith Park, and say, "Oh, we could do this, or we could do this here." I think L.A. is excited and happy to have [filming] back. Some places, obviously, don't want you shooting, but we didn't really run into many restrictions.
I think the biggest restriction you have is your budget. The first thing I brought to the table is I wanted to have a group of motorcycles cut off both directions of traffic, and then blow up an armored car. (Laughs) In Vancouver, that would have been some country, two-lane road that's behind some abandoned factory. And we went to Long Beach and shut down three lanes of the end of the 710, and blew up an armored car. It's a whole new world for me. Talk about being a kid in the candy store…it's pretty fantastic.
What has the process been like writing these extensive action scenes? Do the writers get very specific, or is it created more by the stunt team?
It's funny, out of the writers on the staff, some writers write, "They get into the alley and the two of them fight, and then Lee knocks the guy out." It could be as simple as that. Or, for me, in the first time really being able to do action, I was writing out everything, whether it was possible for us to do or not. I was writing out these three- or four-page long descriptions of fights, where one person could get the upper hand, and then they jump over that. And then once again our stunt coordinator would say, "We can't do that." It was really fun just to be able to write that stuff out. We had this guy, Jeff Wolfe, who is just the most amazing stunt coordinator; he would tell us, "You can do this here, but you can't do it here." Eventually, they all changed a little bit. But oftentimes, we would get to do most of what we wanted.
And the biggest plus is that Jon Foo is an action savant. So every time we would come up with, he's dangling over the edge of the building, Jon would say, "I could do this, but this is harder—what if I'm doing it one-handed, and I'm dangling from there?" It was really cool to have so many pieces in place—that were so much more capable than even we could imagine—that the action was the true joy, and the true benefit of all of it.
RELATED: Jon Foo previews Rush Hour's crazy action sequences
Since you came on after the pilot was crafted, what elements did you see in there that you really wanted to draw out more in Season 1?
The cool thing about coming in is the pilot itself was pretty much a lot of reboot of what the movie was. You saw a lot of things from the movie there, and you added things like Lee's sister [and] Gerald, to the mix. It became this thing of, let's find out the backstories of all these characters. Let's find out why this person is this way. There was a lot of opportunity there to start filling out the backstory, and move things forward.
We had a nice little mini-arc with Quantou and Lee's sister. We didn't want it to be a serialized show, but we wanted to pay respect to that because it was set up so nicely in the pilot. We touched on it four or five times, and it gets a resolution at the end of the season. We have those kind of things built into the story.
But then we loved the idea of Gerald as this central catalyst to a lot of things. So we managed to figure out a way that Gerald becomes involved in every episode, whether we truly planned for him to do that or not. We build this relationship for where it left off in the pilot.
It was a pretty open canvas. We didn't want to just do backstory, so we tried to do a little bit of everything.
Looking ahead, what episodes are you're most proud of?
I really love [this week's episode]. It's one I wrote with Brian Chamberlayne, and it really fulfilled all of those things. It was one of our great action pieces that we had built-in. It was an amazing feat of physical prowess Jon Foo does in the very beginning. It's probably the most Psych-like episode, aside from the one James Roday directed about the possibly haunted Hollywood hotel. But it also has a very sweet explanation of the backstory of Carter and Gerald. And it's really funny, and it's the guys at their best.
And then there's one called "Assault on Precinct 7," which is a great moving forward of the Quantou story. It's our most intense [one]. It's great fun. It was a moment where we thought, "Wow, these guys are really clicking together, and they really brought their A-game."
With a first year show, especially when you're talking about bringing a couple of guys—Justin is a stand-up and Jon comes from action movies—we were trying a lot of things. When everybody gets into their roles and gets comfortable in their roles, the show starts to soar. It was about finding all those things, and getting to the point where everybody was at their absolute best.
Rush Hour, Thursdays, 10/9c, CBS.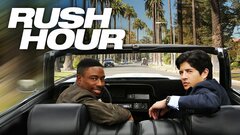 Powered by