'Shadowhunters': Dominic Sherwood on Playing a Jace the 'Mind-Blowing' Fandom Will Love
Shadowhunters rolls out tonight on Freeform (the new name for ABC Family, if you're dead and missed the constant promos) and a lot is riding on whether this latest adaptation of Cassandra Clare's "Mortal Instruments" book series gets it right. After all, the 2013 feature City of Bones failed to find love from the fans, who are counting on the cast to nail the characters obsessed by billions of readers across the planet.
No pressure, right?
"There is a huge amount of responsibility to playing these characters!" laughs Dominic Sherwood, who stars as bad-boy demon-hunter Jace. "The amount of Mortal Instruments fans is absolutely mind-blowing." Having done another young-adult adaptation (2014's Vampire Academy), the Brit-born Sherwood admits that he "kind of knew how people could get" about their beloved book characters, so he's done a ton of prep work to create a Jace diehards will appreciate. Even if he doesn't pack the gold eyes the literary version is famously known for.
"There is so much more to Jace than how he looks," Sherwood continues. "There's his behavior and his past and how that past links him to his future. The way he walks, because he's a soldier. How he holds his seraph blade…I have a notebook on every character I've ever played, and I had to double the size of mine for playing Jace because there is just so much about him I had to develop."
In addition, Sherwood feels that fans have nothing to fear as far as any deviations from the books because the TV adaptation has the stamp of approval from Clare herself. "I don't think any one of us would have gotten our parts without her sign-off, because she invented these characters," he says of the author, whom he first met in person several weeks into production. "She knows Jace and Clary and all of them better than anyone, so it was very important that she was happy with what we're doing because she is the brainchild of it all."
Shadowhunters premieres tonight at 9/8c on Freeform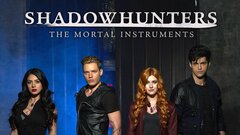 Powered by