'Shadowhunters': Protecting Mankind From a Demon Underworld
New year, new name, new show! ABC Family officially becomes Freeform on the same day that it premieres this lavish adaptation of Cassandra Clare's popular young-adult fantasy series The Mortal Instruments. "The passion of the books' fans is why we're doing this," explains executive producer Ed Decter.
RELATED: More New Shows Premiering in Winter
Centered on free spirit Clary Fray (Katherine McNamara), the drama begins on her 18th birthday as she learns she's a shadowhunter, a half-human/half-angel destined to protect mankind from demons. Clary is soon plunged into a terrifying yet intoxicating underworld "that she's ill equipped to navigate," Decter says. Within this world, she and her bestie, Simon (Alberto Rosende), meet what will become their supernatural squad—fellow shadowhunters Jace (Dominic Sherwood), Alec (Matthew Daddario) and Isabelle (Emeraude Toubia)—as well as a powerful warlock named Magnus Bane (Glee's Harry Shum Jr.), who holds the key to Miss Fray's future.
While much of the pilot's premise will be familiar to readers, Decter promises that even Clare's most devoted fans will be surprised as the story unfolds. "Sometimes we go a bit faster than [the books], sometimes slower," he says. "We're taking from the whole canon." Fire away!
https://www.youtube.com/watch?v=Rp5iLE2JvvM
Shadowhunters, Premieres Tuesday, Jan. 12, 9/8c, Freeform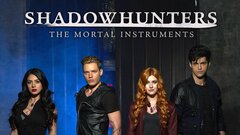 Powered by