7 Things to Know About 'Stitchers' 2.0
Stitchers fans can stop relying on their memories—and reruns—of the Freeform show's first season: Season 2 returns tonight.
When the sci fi series last left off, Kirsten (Emma Ishta) had just stitched into a barely alive Cameron (Kyle Harris) in order to get some information vital to a case they were working. However her brief walk through Cameron's memories not only unearthed a forgotten memory of the two meeting many, many years ago, but it also revealed that an (as of yet) unknown woman was responsible for hiring the man who shot Detective Fisher (Damon Dayoub).
RELATED: Here's What Happened on the Stitchers Season Finale
The season premiere, titled "2.0," picks up where the finale left off—with Cameron flatlining as the rest of the team looks on—while also introducing a few big changes to the upcoming season. "Episode 1 closes the loop on what happened in the [season finale] last year," says executive producer Jeff Schechter. "And it's going to cue us up for the rest of the season."
To preview some of what's coming up TV Insider spoke to Schechter about what you can expect. Just a warning: some mild spoilers ahead.
Things are getting a lot more… emotional for Kirsten.

One of the biggest changes this season: Kirsten will no longer have temporal dysplasia. This means that she's going to have a lot more feelings about what's going on in her life. "She's dealing with a bunch of things that she's never had to deal with before at an emotional level," explains Schechter of Kirsten's newfound "emotional language." "Now that she's feeling these things, she's more easily overwhelmed and more easily swept up by the emotions. There's an obsessive drive that she has during the season that actually threatens to sink her as a person if she can't learn how to deal with it." However, there is a silver lining to Kirsten's new emotional state. "It makes her easier for the team to relate to. She's lost her outsider status, and she's much more emotionally part of the whole team."
Cameron (no surprise) survives death, which gives him a new lease on life.

"In Season 1, especially in the early episodes, Cameron was really fearful and nervous about stuff. In Season 2, he's like, 'I could have died. I don't want to live my life afraid anymore.'" says Schechter. "Where in Season 1, he'd usually be the second one through the door if there's a big adventure, in Season 2 he's often the first one through. Now [the team is] worried about Cameron. Maybe he's taking too many chances."
Linus (Ritesh Rajan) will be making some big life changes.

"Early in Season 2 Linus makes this decision that he has to grow up," says Schechter. "He actually lives in his parents' house, [so] he moves out and gets his own apartment and starts thinking steps. [Like] what does it mean to be a young adult rather than a big kid." This choice does have something to do with his now ex-girlfriend Camille (Allison Scagliotti), who Schechter says wants to be with someone more mature. "We want Linus to actually grow to a point where he becomes the man that Camille deserves and needs. Not just this big kid with kind of a hookup."
Camille (Allison Scagliotti) will explore some new career opportunities.
"She really likes this idea of field work, of getting out there and kicking ass," says Schechter of Camille's new professional interests this season. "She recognizes that early on, when they're being targeted and shot at. She's always been proficient technologically, [so] in Season 2 she definitely makes more of a move to become sufficient physically. She starts Krav Maga training and getting trained by Fisher."
The woman on the phone might make an appearance later this season.
"By the end of the season, there's a real possibility that we will have met who the voice on the phone is," teases Schechter. In fact, the mysterious woman will come up a few times this season. He adds, "There's also enough reason to think that it might not actually be her. We like to give one or two reasons why it couldn't be what you're thinking."
VIDEO: Kirsten's Stitchers Suit Gets a Makeover in Season 2
Yes, Liam (Jack Turner) will definitely stuck around.

"When we last saw Liam, we pretty much implied that he's got some agenda moving forward," says Schechter of Kirsten's ex-boyfriend, who viewers last saw promising to stay in town. "In Season 2m we do get to see what that agenda is and play it for mystery. It gives [Kirsten] a bit of a reconnaissance storyline as we try to figure out what Liam's really up to."
Season 2 is even more of a family matter.

"Season 1 was about creating family," explains Schechter. "Season 2 is about how, now that you've got a family, how do you deal with a family? Families can get messy and misunderstood and all the emotions involved with it."
[jwplatform q4Zff5xr]
Stitchers, Season premiere, Tuesday, March 22, 9/8, Freeform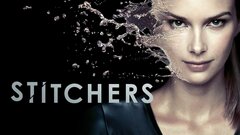 Powered by