Kirsten's 'Stitchers' Suit Gets a Makeover in Season 2 (VIDEO)
What doesn't kill you can only make you stronger… Or at least let's hope that's the case when Stitchers returns for it's second season on Tuesday, March 22.
The opening hour—titled "2.0"—sees Kirsten (Emma Ishta) successfully reviving Cameron (Kyle Harris) after he nearly killed himself last season. But as Kirsten soon discovers, stitching into a live consciousness leaves her with a big side effect: she's starting to experience emotions again.
RELATED: Stitchers EP on Kristen's Past and Cameron's Future
As the exclusive clip below shows, the new discovery leads to one change in the stitchers program: the suit Kirsten wears in the fish tank. And, judging by her reaction to Cameron and Linus's (Ritesh Rajan) new design, it seems she's a fan of the "badass" update. This should come in handy when her latest stitch leads to a shocking discovery and an important memory involving her biological father.
And if Kirsten's plate can't get any more full, the stitchers team will have to deal with Les Turner (Oded Fehr) putting the lab on lockdown and suspicions surrounding Maggie (Salli Richardson). Elsewhere, Camille (Allison Scagliotti) will be trying to cheer up Detective Fisher (Damon Dayoub) as he recovers from last season's wounds.
Watch the exclusive clip from the Season 2 premiere of Stitchers and then tune in on Tuesday, March 22 at 9/8c on FreeForm.
[jwplatform QncfImar]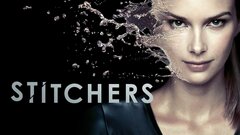 Powered by