Robert Knepper, Rockmond Dunbar and Amaury Nolasco Join Fox's 'Prison Break' Revival
Robert Knepper (T-Bag), Rockmond Dunbar (C-Note) and Amaury Nolasco (Sucre) have officially signed on to reprise their roles in the Prison Break limited series.
All three men have a long history with Prison Break: Dunbar and Nolasco were a part of the original series' pilot in 2005; Knepper first appeared in the second episode of the show. They join previously announced returning cast members Wentworth Miller (Michael), Dominic Purcell (Lincoln) and Sarah Wayne Callies (Sara).
So what brings T-Bag, C-Note and Sucre into the mix during this event series? Per Fox, "when clues surface that suggest a previously thought-to-be-dead Michael may be alive, Lincoln and Sara reunite to engineer the series' biggest escape ever, as three of Fox River State Penitentiary's most notorious escapees, T-Bag, C-Note and Sucre, are pulled back into the action."
Prison Break's event series will air during the 2016-2017 season.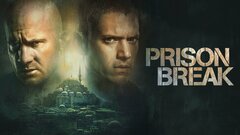 Powered by