'Vikings' Casts Jonathan Rhys Meyers for Season 5
Looks like King Henry VIII is going back in time to be a Viking.
Jonathan Rhys Meyers, best known for his royal role on The Tudors, has been cast in Vikings. The actor will join the History Channel series for Season 5, though nothing is known (yet) about his character. Meyers will also be seen in the upcoming reboot series of Roots, also on History.
RELATED: Does Vikings' Floki Deserve Your Sympathy?
"Vikings continues to be a powerhouse series worldwide, bolstered by the ongoing support from History and the direction of our first-class creative team, led by Michael Hirst…," said Mark Burnett, President, Television and Digital Group, MGM and Steve Stark, President, Television Development and Production, MGM. "We are excited to have Jonathan Rhys Meyers join our talented cast and watch as this epic story evolves heading into Season 5."
The fifth season will also return with 20 episodes, and production will start this summer before the series airs in 2017.
Vikings current airs on Thursdays at 10/9c on History.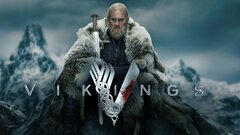 Vikings
where to stream
Powered by