Roush Review: 'Our Boys' Recalls the Authenticity & Intensity of 'The Wire'
Not every murder investigation can trigger an actual war — but few places are as volatile as Jerusalem, where tensions between the Arab and Jewish populations escalate in this grim and riveting docudrama based on actual events in 2014.
Filmed in Israel, the English-subtitled Our Boys opens with the kidnapping and murder of three Jewish teenagers, attributed to Hamas. In retaliation, a Palestinian teen is abducted, beaten and burned to death by unknown parties — a crime that shocks even battle-hardened authorities: "Jews don't do something like this," declares an Israeli cop.
Leading the investigation is Simon (understated, excellent Shlomi Elkabetz), a pragmatic antiterrorism agent in the Jewish Division of Israel Security. Against a backdrop of street riots and political pressure from both sides, he solemnly pursues disturbing leads and infiltrates a Jewish settlement for answers.
With an authenticity and intensity recalling The Wire if set in the Middle East, Our Boys puts a human face on an age-old conflict, asking if justice is ever possible in a world where young boys are used as tragic pawns.
Our Boys, Series Premiere, Monday, August 12, 9/8c, HBO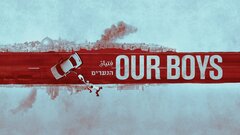 Powered by