We Guessed Correctly! Jeff Daniels Kissed Stephen Colbert
Last week, we pondered this important late-night question: Who's kissing Stephen Colbert next?
We took our best guesses at the Thursday night lineup, but no one was game to follow in Helen Mirren and Sally Field's footsteps, not even Anna Kendrick.
For Friday, we guessed Jeff Daniels would be next in line to kiss Colbert, and IT HAPPENED! Daniels also became the first guy to kiss Colbert on his show. Even if the mouth-to-mouth kiss was tame by national TV standards, it ended the speculation about who would carry on that romantic chemistry with Colbert.
We looked at other guests lined up for this week highlighted and others who could continue the kissing trend:
Monday, March 14: John Oliver – another Daily Show alum with snarky humor; there's no one better to smooch Colbert
Tuesday, March 15: Steve Martin and/or Shirley MacLaine – it's a toss-up here; both could be comfortable enough to take Colbert along for a romantic ride
Wednesday, March 16: Jussie Smollett – only because his Empire character has experience kissing men
Thursday, March 17 – William H. Macy – another funny guy, we can see the Shameless actor being, well, shameless about a bit of a peck
Friday, March 18 – Helen Mirren – why, yes, it's a repeat visit by Dame Mirren. Could this mean some repeat kisses as well?
Check out the rather charming kiss by Daniels below: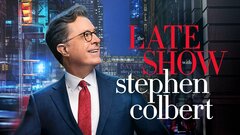 Powered by