Who's Kissing Stephen Colbert Next?
Stephen Colbert's been one very lucky man this week. Not only was he kissed by two sexy women, he was kissed by two legendary Hollywood actresses.
Enter: Dame Helen Mirren and Sally Field. (See all the kissing glory below.)
The kisses certainly left the (usually) unflappable Colbert speechless. And we're not going to lie: we were left speechless, too.
Dame Mirren started kissing week rolling when she stopped by The Late Show on Tuesday, fulling a 15-year desire. Colbert may have blushed like a schoolboy with her soft pecks, but it was Field who really left the late-night host fainting on the floor Wednesday night. Field might have started out with a small kiss, but she later went into full-on French mode. (Guess she really likes him!)
With two kisses down, we can only speculate who might follow in their footsteps. Let's take our best guesses:
Thursday, March 10 Guests
Anna Kendrick – Kendrick's game for anything (Super Bowl beer ad, Kate Spade #MissAdventure eps), so why not a kiss with Colbert? A cheek kiss might suffice…to avoid any awkward May-December cringes. Plus, the Pitch Perfect actress has kissed many a guy (Joseph Gordon-Levitt, Ryan Reynolds, Chris Pine…), so we think she'll do well.
Loretta Lynch – As the U.S. attorney general, we can't see Lynch doing anything too off-the-cuff. The Secret Service would not be impressed.
Brian Fallon – If the young up-and-coming singer wants to drum up more publicity, there's no better way to do so than become a Tumblr-worthy .gif.
Friday, March 11 Guests
Jeff Daniels – Like Kendrick, Daniels seems game for anything (how else can you explain his wildly different roles in Dumb & Dumber, The Newsroom, and in Broadway's Blackbird?). Plus, even Colbert has admitted no guy has kissed him on air yet (not even Sir Ian McKellen), so we'd like to see Daniels get in on the game.
Mary Elizabeth Winstead – Maybe it's a double kiss for Colbert, if the Scott Pilgrim Vs. the World actress carries on the female torch…
Audra McDonald – …Or could it be a triple kiss for Colbert, with some song on the side, if McDonald teams up with the other two?
But no matter who's locking lips with him next, could any kisses get better than this?
---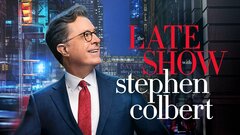 Powered by