Villanelle Goes Deep Undercover in 'Killing Eve' Episode 6 (RECAP)
[Warning: The below contains MAJOR spoilers for Episode 6 of Killing Eve Season 2, "I Hope You Like Missionary."]
Last week was a turning point for Eve Polastri (Sandra Oh), her decision to bring Villanelle (Jodie Comer) into the Alistair Peel investigation crossed all sorts of ethical boundaries. Yet, in many ways, Eve got precisely what she wanted. Villanelle is back in her life and with that comes the danger and excitement she so desperately craves. But in getting what she wants, Eve is losing everything she has, including her marriage.
Eve and Niko (Owen McDonnell) have been on the rocks for a while, the constant lies and deceptions straining their lovingly mundane relationship. Finding out that his wife stabbed Villanelle is a step too far for the mustachioed high school teacher. It's not just the act of violence itself that alarms Niko; it's the fact that Eve never felt trusting or comfortable enough to share such a significant event with her husband.
At first, the frustratingly good-natured Niko reacts surprisingly out of character. His hair sopping wet from the rain, Niko arrives home in the dark of night and shoves Eve up against a wall. "Does it excite you?" he asks, almost trying to channel Villanelle. This isn't a man merely lashing out in anger; it's a desperate spouse scrambling to be the person his wife wants him to be. When he asks her if she wants him to "love her" or "frighten her," Eve tells him she doesn't know, but that's just another lie.
Eve is obviously thrilled by this dominant side of Niko, gushing the next morning that their fight-turned-sex-romp felt like a "one night stand." For a brief moment, the monotony of their marriage is broken, but it doesn't last. Niko feels guilty for the way he acted. That isn't who he is; he's not Villanelle. So he leaves and moves in with his lovestruck co-worker Gemma. "Don't leave me alone," Eve says. "You're not alone… are you?" he retorts.
The breakdown of the Polastri marriage seemed inevitable. Eve and Niko are just not compatible. He is a mild-mannered man seemingly content with his lot in life and lacking in drive. She is a determined go-getter who strives for adventure and is easily prone to boredom. However, that doesn't mean Eve isn't hurt or jealous that her husband is crashing on Gemma's sofa… Niko was her anchor, her sanctuary, her last connection to normality; without that, all she has left is the madness.
With Niko out of the picture, Eve's life descends into all-out lunacy as she finds herself in a weird work relationship with the woman she tried to kill. Villanelle is again brought in as a sort of freelance MI6 operative; this time tasked with using her mastery of disguise to get close to Aaron Peel (Henry Lloyd-Hughes). She puts on a wig and New York accent and infiltrates an AA meeting where she wins the affection of Aaron's sister, Amber (Shannon Tarbet). It's like an episode of Alias if Jennifer Garner's character was a dangerously violent woman-child with a penchant for Gucci handbags.
Yes, it's rather silly that a psychopathic assassin who has murdered countless people – including Eve's colleague and best friend – is working with the MI6, but Killing Eve is quite often a silly show (in the best possible way). Neither Phoebe Waller-Bridge nor current showrunner Emerald Fennell is aiming for gritty realism here. The show is almost comic book in tone at times, pulpy fun that you just have to go with and enjoy the ride. And who doesn't want to see Villanelle getting to play secret agent (cast Jodie Comer as the next James Bond you cowards!)?
The undercover mission is all good fun, especially when Villanelle is invited to Aaron's house for "sups" and slaps the arrogant tech giant across the face with a philosophy book. Her performance as "Billie" the recovering alcoholic is highly entertaining and yet another demonstration of Comer's versatility as an actress; it's particularly impressive how she keeps hints of her Russian accent within her New Yorker twang.
The most fascinating part of this whole plot though comes in an earlier scene during one of the AA meetings. After being told the only way to gain trust is by being honest, Villanelle (as Billie) opens up to the group, revealing that most days she wakes up and feels nothing. She finds life a tedious chore, and no matter what she does to try and fill the empty void, nothing works. "I wonder how come everyone else isn't screaming with boredom too," she states with tears in her eyes. "I'm just so bored."
It's the most truthful and vulnerable we've ever seen Villanelle, but what makes it so captivating is that we don't know how real any of this is. It sounds like she's describing a form of depression – and a lot of it certainly applies to what we know of the international hitwoman. But is this just another performance? For the benefit of the group, and for Eve, who is listening via earpiece. After all, Villanelle knows how to burrow into Eve's psyche, and her monologue applies just as easily to the MI6 agent as it does herself.
Eve recognizes herself in Villanelle and even acts like her throughout this episode. When Eve sneaks into Gemma's bedroom and snaps the ballerina off her musical jewelry box and tips out her lingerie drawer, it mirrors an earlier scene where Villanelle breaks into the Polastri house and marks her territory by shoving a toothbrush in her mouth and sticking a banana in a salt pot. Both women are living dangerously on the edge because they're so desperate to feel something.
When Villanelle is cruel to Eve, telling her "the only thing that makes you interesting is me," the response from Eve is not to attack the heartless killer who insulted her but to instead take it out on Niko. "I hope you like missionary," she scoffs at Gemma, painting her husband as a predictable bore in much the same way Villanelle did her. "You'll be happy here," Eve tells Niko, referring to his new humble abode. "I dread to think where you'll be happy Eve," he replies.
Niko's response cuts to the heart of the matter. Eve is on the pursuit of happiness, but she isn't able to find satisfaction. There is part of her that would love to live a humdrum simple life, except that's not who she is. "You will never understand how much harder it is to be nice and normal and decent than it is to be like you?" Eve snaps at Villanelle when she mocks Niko. "Like us, you mean?" Villanelle responds. The fashion-conscious killer is spot on – Eve struggles with the boredom of everyday life as much as her, and that's what makes their relationship so compelling.
There are only two episodes left this season, and Eve and Villanelle find themselves closer than ever, but the deeper their relationship gets, the deadlier the consequences become.
Additional Notes
-I have to admit to being a little bit confused by the ending. Why does Villanelle follow those two women she met in the takeaway restaurant? Did she just want their chips?
-Things we learned about Carolyn this week: she enjoys fencing, she hates breakfast. "It's just constant eggs. Why? Who decided?"
-"Do I get a watch with a laser in it?" Villanelle asking the important questions on the first day of spy school.
-Potentially interesting connection: League of Gentlemen writer Jeremy Dyson penned this episode, and I feel pretty confident the location used for the Peel house was the same one used in Inside No. 9's "A Quiet Night In," penned by fellow League of Gentlemen writers Reece Shearsmith & Steve Pemberton.
Killing Eve, Sundays, 8/7c, BBC America and AMC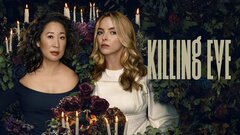 Powered by