'Lucifer's Attempt to Ask Chloe for Help Does 'Not' Go Over Well (VIDEO)
Everyone's favorite fallen demon has some begging to do on next Monday's (March 7) episode of Lucifer.
Last week, the titular goodie-turned-baddie-turned-sorta-goodie (Tom Ellis) had something precious stolen from him: his angel wings, which were (supposedly) kept in a safe place. This week, he's on a mission to track them down, and who better to ask for assistance than the perfectly snarky LAPD detective Chloe (Lauren German)?
RELATED: Lucifer's Tom Ellis Explains Why the Devil Has Daddy Issues
Problem is, when Lucifer tells her what was stolen, her reaction is…less than helpful. Just check out the weathered cop's response in the exclusive clip of "Wingman" below.
[jwplatform oTDTmh6C]
Lucifer airs on Mondays at 9/8c on Fox.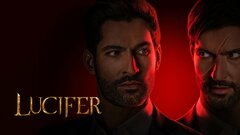 Lucifer
where to stream
Powered by