'Quantico's Return: 12 Things Fans Can Expect for the Remaining Episodes
Warning: Mild Quantico spoilers ahead!
At a recent screening with Quantico's producer Joshua Safran and star Josh Hopkins (who plays Liam), TV Insider got the skinny about what to expect in the back half of ABC's FBI thriller, which picks up in the aftermath of the bomb that killed some of the agency's best and brightest. "It's a chance to relaunch the show," Safran said. "To look at what we had done and what we can do better." For instance? "Alex (Priyanka Chopra) should have been on the run maybe three episodes less."
Here's some more intel on what you can expect from the rest of the season:
Nobody will believe Alex that poor dead Elias (Rick Cosnett) was not the bombing mastermind. Yes, Elias is really dead, but it doesn't help that Alex is on a (kind of) mental health leave after the trauma of watching the temporary FBI headquarter blow up.
Everyone we love or hate survived the bombing, except for one troublesome character. That death ruins some lives and motivates others. A total of 32 agents will die.
We haven't seen the end of Samir, the con woman who fleeced Shelby (Johanna Braddy) pretending to be her sister for a decade. Shelby has plans for her, but they get complicated when Samir disappears.
There will be three new NATS who will be living with and working against the surviving members of last fall's class: Drew Perale (Lenny Platt), Iris Chang (Li Jun Li) and Will Olsen (Jay Armstrong Johnson). Actually, they're one month further into their training and they're smart, strong and dangerous. And, of course, hot.
Liam's moving up in the world. "One of the best parts of playing this role is Liam starts as a broken alcoholic in the last leg of his career and, fast forward, he's one of the top brass in the FBI. We'll get to see how that happens," says Hopkins. We'll also get to see some funny business between Liam and Alex. "I'm always looking at her! Liam makes some questionable choices," the actor tells TVI with a laugh.
RELATED: How Real Is Quantico? EP Josh Safran Separates Fact From Fiction
The storytelling will slow down. "Moving forward, the stories will focus on one or two characters at a time. We'll allow them to breathe," Safran shares.
The whoosh that delineates the present in Quantico and the future in New York is still with us. There's still a lot of time shifting and we'll discover who is no longer with the FBI by the time of the congressional hearing. TV Insider knows for a fact that Safran hates that "so '70s" whoosh, but the networks loves it, so it stays.
Many stories from the fall will be quickly wrapped up. That includes the truth about Charlie (Mallory McCree), the troubled son of Quantico's honcho Miranda (Aunjanue Ellis), and his kidnapping. Plus, fans will find out the reason for Caleb (Graham Rogers) having an alter ego named Mark Raymond.
Simon's (Tate Ellington) storyline will make us cry. What do you expect from a guy who inadvertently kills a bunch of his fellow FBI agents? "What happens to him is heartbreaking and terrifying," Safran teases.
Everything will be wrapped up by the season finale. "I'm not a fan of how to stretch a plot line," shares Safran. "I studied Homeland and 24. 24 did a great job of resetting ever year. I loved season one of Homeland and parts of Season 2, but they stretched out that story too long." Oh, and there will be more casualties. "It's a show about terrorism and bad things happen," the producer reveals.
RELATED: How Real Are TV's Current FBI Agents?
The last few minutes of the winter premiere will change everything! And it wasn't planned from the start. "The motor of the second half of the season is revealed," promises Safran. "We knew where we were doing, but that motor was a revelation that came from our youngest writer, Logan Slakter. Let's just say Alex will be doing the very unexpected. Or as Safran puts it, "She's having a blast with terrible consequences."
Oh, and Priyanka Chopra's hair will still be that perfect. For real. "She rolls into set early in the morning and she looks perfect," Safran swears. "Especially her hair. "
Quantico returns Sunday, March 6 at 10/9c on ABC.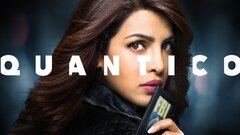 Powered by