'Quantico' Fall Finale: Did [Spoiler] Really Bomb Grand Central Terminal?
Spoiler alert! Don't read if you haven't watched the fall finale of Quantico.
Who's the terrorist behind the Grand Central Terminal bombing? That's the question that's been on everyone's mind since ABC's Quantico premiered. And since Simon (Tate Ellington) admitted to designing two dummy bombs for peace in the previous episode, many have become even more suspicious he was the terrorist bomber. But other former FBI rookies have been just as suspicious and piqued interest: Caleb Haas (Graham Rogers) and one Amin twin (both played by Yasmine Al Massri). But, the fall finale revealed former NAT Elias (Rick Cosnett) had a hand in the bombing, going so far as to chloroform Simon to stage his apartment as a terrorist lair, in the same way as Alex's (Priyanka Chopra) apartment. And, he probably taped Simon's hand to the trigger for the Grand Central bomb. But, is Elias the true bomber? Or is he just a pawn in a bigger plan?
In light of the big reveal, we spoke to executive producers Josh Safran and Jake Coburn about whether any other FBI NATs may still be dangerous, Alex's romantic choices and how the fall finale will affect the story when the show returns next year.
RELATED: Why Alex Parrish Is a Kick-Ass Woman on TV
So it was Elias, Quantico washout and lawyer for the NATs, who bombed Grand Central and the FBI Command Center in New York. Why Elias?
Safran: I wouldn't actually say that Elias was the bomber. He definitely helped perpetrate terrorism, but he may or may not have worked alone. We'll see in the future. We knew that Elias was recruited by the FBI and really didn't want it like everyone else, and when he ran out of the bomb exercise, we learned that he cared more about himself than others around him. If he wasn't working alone, he was an easy target as a pawn for a mastermind.
Coburn: We are big fans of Rick. He is such a strong actor that we knew he could pull it off. I think he did.
If Elias was telling the truth about being a pawn, why didn't he tell them who he worked for and where the second bomb was really located?
Coburn: Whether or not Elias was telling the truth is a central plot point for the second half of the season. He didn't say more because we'll discover that he shared what he knew.
Was Simon chosen to be framed because of his IDF background? Or because the Feds knew that he had met with an Israeli bomb maker?
Safran: Like Elias said, with everything the FBI had on Simon, he was an easy mark.
Coburn: There are two through lines. Elias claimed it was only the day before when Simon told the FBI he almost blew up a mosque and synagogue that he was the perfect person to have blamed for this bombing. Simon believes Elias planned the frame since Quantico and his attraction to him was really about getting to know his weaknesses. And Elias was biding his time until everybody got into the emergency command center.
RELATED: The Fact and Fiction of Quantico
How's Simon going to live with the fact that, when he let go of the detonator after thinking everyone was safe, he blew up the Command Center?
Coburn: That will be a big part of what's to come. It will have a huge emotional impact on Simon. When we come back, we're going to go on a ride in terms of how it's changed him.
Who was still in the Center when it blew?
Safran: Clayton (Mark Pellegrino), Claire (Marcia Cross) and Caleb Haas, Shelby (Johanna Braddy), Miranda (Aunjanue Ellis), Liam (Josh Hopkins) and, potentially, Raina Amin.
Are any of these characters actually dead?
Safran: Yes.
Clayton (Mark Pellegrino) seems like a good candidate. You wouldn't kill off Marcia Cross, after just bringing her on and with the story possibilities of her running for Vice President, would you?
Safran: This is the beauty of two timelines. Just because someone might die in the present, it doesn't mean that they're dead at Quantico. But you'll see more of Claire.
In the fall finale, Claire promised Shelby that she'd ruin her for breaking Caleb's heart by sleeping with his father. Should Shelby be scared?
Safran: If they're still alive after the smoke clears, I believe she should be afraid, yes.
RELATED: How Real Is the FBI Represented on Quantico?
What should we make of Raina kissing the terrorist in the hospital? I assume that won't be forgotten.
Safran: As Raina told her sister Nimah in episode 10, it was about compassion. It wasn't about passion. We'll definitely be delving into that story when we come back.
It's Nimah, though, who's expressed anger at both America and its ally Israel, or at least Simon's work with the Israeli Defense Forces.
Safran: She's not saying all Americans. She talks about how after 9/11, people treated Muslims differently and may or may not have incited them to do things they wouldn't have done.
Coburn: Given current events and the fact that we have politicians right now saying things, it's definitely an issue people have to deal with.
Let's talk romance. At the New Year's party, Alex met Hannah (Eliza Coupe), Ryan's (Jake McLaughlin) ex-wife. She said that Ryan really loved Alex. The next thing we know, Alex is in Liam's car and saying in her sultry voice, "Teach me something." What can we expect from that?
Safran: Hannah told Alex that even though Ryan loves her, they can't be together for a long time, so she should let him live his life and see if there's a chance later. That weighs on Alex , but although she goes off with Liam, it's not necessarily what you think it is. Of course, there's a hint of something between them. What will or will not become of that will be answered very quickly. Now that Liam had opened up to her about working with her father, I think she's ready to learn more about that.
When the show returns, should we still be suspicious of the Quantico NATS, or will the terror suspect list expand beyond that group?
Safran: Probably both. [Laughs] We should still definitely be suspicious of Quantico people. At the same time, the world of suspects is going to increase in the second half of the season in a big way!
Quantico returns on Sunday, March 6.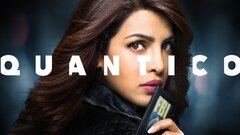 Powered by