Rob Corddry Explains Why Adult Swim's 'Childrens Hospital' is Ending, Plus Why The Rock Didn't Appear
Childrens Hospital is shutting its doors.
The Adult Swim live-action comedy, which began its life as a web series in 2008, will end its run this spring. The show is in the middle of its seventh season.
Childrens Hospital is arguably the most successful program to have made the move from online to on TV. Executive producer Rob Corddry, who also stars as Dr. Blake Downs, tells TV Insider that "it was a decision that had been brewing for a number of seasons. My love for doing it kept it going."
The comedy, which is in the middle of its seventh (and now, final) season, began life as a parody of medical TV shows like E.R. and Scrubs, but grew a large following thanks to its absurdist humor–and the fact that its 15-minute episodes were perfect-sized, binge-able bites for young viewers in the post-Internet age. It's even won two Primetime Emmy Awards, in the "Outstanding Special Class – Short-Format Live-Action Entertainment Programs" category (which has since morphed into several categories).
Childrens Hospital is also known for its large, revolving cast of characters, played by Corddry, Rob Huebel, Lake Bell, Erinn Hayes, Ken Marino, Megan Mullally, Malin Akerman, Henry Winkler and others. Guest stars like Nick Offerman, David Wain, Jordan Peele and Jon Hamm also regularly appear.
Childrens Hospital moved to Adult Swim in 2010 after launching as short webisodes on the now-defunct TheWB.com in 2008. Corddry created and executive produces with Jonathan Stern (Burning Love, NTSF:SD:SUV::) and Wain (Role Models, Wet Hot American Summer).
Besides Childrens Hospital, Corddry is also known for his stint on The Daily Show, as well as movies such as Hot Tub Time Machine. He spoke with TV Insider about the fate of Childrens Hospital, as well as working with Dwayne "The Rock" Johnson on HBO's Ballers, and what's next for him.
Why are you ending the show?
Corddry: I don't know why people have questions about ending a successful show at the height of its creative success! What's so crazy about that? This show is very special to me, and it's very important that we go out living up to what the show has been the last six, seven years. Probably also what kept it going was, there is no end to ideas for this show. I think shows a lot of times find themselves in a vacuum where they've done all they can with it and they're beating a dead horse. But our show is kind of like a live-action animated show. We can get away with anything in our world. That wasn't a thing that was going to stop me. Really, it was a personal decision to recognize my own achievement and then want to see what's next. It took a lot of time and energy. It was a year-round job for me, and I've noticed a lack of hunger to do something else—to pick up a pen and start a new idea.
I imagine you're also looking at all the other opportunities that now exist in the landscape, and all the cool things that some of your fellow comedians are getting to do. Are you thinking of doing more things for Adult Swim? Streaming? Broadcast? All of the above?
Corddry: I don't have anything specific, although I will say the experience with Adult Swim has been dreamy. Depending on the idea, and I tend not to have the most mainstream ideas, that would be the first place I would go and pitch something. The kids are calling it the golden age of television for a reason.
And it's a golden age of TV comedy, given that you don't have to be trapped in the sitcom box anymore. Do you feel like a pioneer, given that you created this online way back in the early days of 2008? Seems like a lifetime ago now.
Corddry: If I am, I did so completely unwittingly. I guess that's why I want to be free to start something else. I think that if I was a pioneer of anything, it's because all the ingredients were right to make a good show with the trajectory it's had. Starting with casting and just the way we wrote our stories.
You guys have this comedy troupe, as people come in and out and work on each other's projects. Does that come out of your experiences as a part of the Upright Citizens Brigade?
Corddry: UCB has a lot to do with it. I consider it a vast comedy repertory company. Childrens Hospital is a smaller rep company inside this larger one. My personal theory is it's a combination of the Upright Citizens Brigade and their whole philosophy and all the students they have turned out with that philosophy, and The State, from the 1990s, and all the peripheral actors and comedians directly and undirectly related to that huge family. I think we found ourselves in a comedy world where it's not like "kill or be killed," or "step on one guy to get a leg up." It's really this very pleasant, make your scene partner look good and you would look good by default. Worry about the other guy. And it created this nice, pleasant atmosphere where people are cool and like each other and like to help each other. They like to be on each others' things. Will Ferrell and Adam McKay have their comedy family, Adam Sandler has his comedy family, and there's the Judd Apatow comedy world, and Ben Stiller has his comedy world. There are so many comedy worlds but it's always defined by one figurehead. This world isn't. It's just a lot of faces you see over and over again, because people like working with us.
It seems like you're all having a blast on set.
Corddry: We're casting our friends, and also casting a line out and hitting a Megan Mullally or Henry Winkler, and reeling them in.
You ended last season with a cliffhanger, as the staff is fired. Normally, the show simply resets, and it doesn't really matter if someone, say, dies. But this time, you came back and picked up the story where you left off.
Corddry: I learned the lesson to not give myself a cliffhanger to try to answer because it's not really the spirit of the show. There are no thrulines. The only thruline being, the best example of all the different kinds of episodes we find ourselves doing on the show.
I imagine the most challenging part of producing Childrens Hospital has been trying to get your busy cast all together. How do you pull it off?
Corddry: We really don't anymore. There are some episodes where we gather a quorum, a pretty respectable quorum. The finale this season will be probably the highest representation. Nurse Beth [Beth Dover] wasn't able to make that episode, and she's the only cast member who won't be in the two-part finale.
Is there anything you're still surprised you got away with it?
Corddry: That we were able to save $15,000 and go to Brazil for four days to shoot one 20-second scene that we didn't even really need for the story to work. I tell you, that was kind of a coup. Even though most viewers have no idea, because you could have easily done that with a green screen. They have no idea that we did it, and we don't care because it was a blast.
It was a personal victory.
Corddry: It was a personal victory, and one that we were going, "What are we doing?!"
And you never got many notes from Adult Swim, right? So when you set an entire season on an Army base in Japan, they just went with it.
Corddry: The notes we get were more like, [Adult Swim executive vice president and creative director] Mike Lazzo, we consider him another one of our collaborators. He's just 3,000 miles away [in Atlanta]. He will give us very few notes when he reads the scripts for the first time. Usually his ideas are definitely pointed toward elevating the show, the episode or just a little moment. If he gives us a note, we'll more than likely take it.
Do you ever get used to driving down the street and seeing big billboards of Childrens Hospital, featuring you as Blake in his creepy clown makeup?
Corddry: No, certainly not. What I've been enjoying is this season's billboards have been particularly defaced. In not very creative ways, it's usually your run of the mill penis drawn on my face. Or some curse word. But this one, I think because it's a closeup of my face holding a gory heart, people are like, "Oh, I'm about to write on that shit!" It's nice, because it's getting more attention.
It's vandalizing something that's already out of the mainstream.
Corddry: Exactly. We vandalize the streets by putting it up. It's only fitting that people would vandalize it further.
Talk about HBO's Ballers. I imagine it couldn't be more different, going from Childrens Hospital to chopping it up with The Rock on that show.
Corddry: They are definitely two different worlds! We wrapped about two or three weeks ago. Season 2 was great. I love second seasons of shows, because the creators have figured out what the show is and they're still excited to map out a season of it. I didn't expect Season 2 to be this interesting. There are some really cool character arcs.
Anything you can tell us about your character, Joe?
Corddry: It's hard to explain, I don't want to give anything away. It's a magnified version of Joe. At the same time there's a role reversal. My character is forced to be responsible in a way that perhaps he doesn't welcome. Boy, that was so clunky. I find it so hard to talk about shows I can't talk about!
Safe to say there's a new company, and the dynamic has changed.
Corddry: That's a good way to say it. I love reading the new scripts like a viewer. I know I would love this show if I wasn't on it, with a much different part of myself than how I would love Childrens Hospital if I wasn't on it. They are both that different in terms of their tone and audience.
What does The Rock think of Childrens Hospital?
Corddry: I don't know if he knows it exists! Although he loves Hot Tub Time Machine. There's a little crossover in terms of humor. But there's way more heart to Hot Tub Time Machine. That's the most ridiculous sentence I've ever said. But I'd be very curious to hear his honest reaction. Because he's a funny guy. I can see his tastes running to the absurd.
Was there any chance of having Dwayne Johnson guest star on the final season of Childrens?
Corddry: [Laughs] You know, I guess not. He was probably shooting something. The short answer is no. I don't want to bug him. When I'm on the set I have no problem bugging him. But I don't want to bug him off the set!
It's pilot season, any chance you might look at any network stuff?
Corddry: I could, although I'm owned by HBO right now. Who knows what network will look like a year from now, two years from now. I would like to still create things to act in or not act in for whatever network, be it major or minor, that the idea itself would seem to fit.
How do you want Childrens Hospital to be remembered? What is the show's legacy?
Corddry: I have no idea. I tend not to think in epitaphs. I know I'll look at it as a perfect representation of my personal life journey at the time. My arc during the last eight years. I can use Childrens Hospital to mark out all these cool things. It's just a personal experience for me. I don't think people will think ill of it. I hope people think, "That thing was funny, and kind of dumb and meaningless. And funny because it was meaningless!"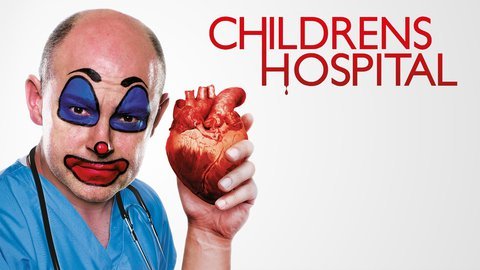 Powered by