Watch 'Once Upon a Time's Captain Hook Take on Robin Hood (VIDEO)
iPtsV8b3
Hook and Hood might just beat the bromance going on between The Walking Dead's Rick and Daryl.
To celebrate Once Upon a Time's 100th episode, Colin O'Donoghue (Capt. Hook) polished off his people skills by interviewing Sean Maguire (Robin Hood) on the red carpet. "I'm nervous about interviewing you because you're very dreamy," O'Donoghue laughed.
PHOTOS: See Cast Photos From the OUAT 100th Episode Party
But when the two got more serious about Maguire's defining moment on the show, he answered, "The first day, the first shot…where I jumped down and pulled the hood down. It was kind of like a Bond, James Bond scene."
So what about his romance with Regina, aka. the former Evil Queen? Well, watch the video above and find out for yourself when Lana Parilla crashed the interview—and added extra charm.
Once Upon a Time, Midseason premiere/100th episode, Sunday, March 6, 8/7c, ABC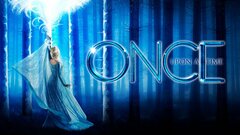 Powered by