'Once Upon a Time' Photos: Here's How the Cast Celebrated the 100th Episode
Once Upon A Time cast a spell on Canada while celebrating their 100th episode.
The enchanting night had cast and crew members (plus their significant others) coming together for a fairy tale party, and we gathered some charming photos that your favorite OUAT stars shared of the revelry. Check out the fun #Once100 moments below and make sure to watch the 100th episode, which doubles as a midseason premiere, on Sunday, March 6.
RELATED: 11 Things to Know About the 100th Episode
Storybook in Storybrooke
Jared Gilmore (Henry) shared a photo of the spectacular cake modeled after the show's antique book of fairy tales.
#OnceTurns100 It tasted as good as it looks. #CakeBook Lots of stories inside I'm sure. R U ready to see more? pic.twitter.com/htMvp6yyFd

— Jared Gilmore (@Jared_Gilmore) February 21, 2016
Creative Trust
Sean Maguire (Robin Hood) snapped executive producers Adam Horowitz and Edward Kitsis sharing some words.
The White (and Black) Stripes
Jennifer Morrison (Emma Swan) stunned on the party's red carpet in a low-cut striped gown.
Let Them Eat Cake!
Morrison just couldn't contain her excitement to dive into some dessert.
A photo posted by Sean Maguire (@iamseanmaguire) on
The Evil Queen's Glam Squad
Lana Parrilla (Regina) and her dedicated makeup team prepped and primped for the party.
One True Love
Parilla and Maguire, whose characters are a couple on the series, show off their off-screen chemistry.
Hook and the Hood
Pals Colin O'Donoghue (Capt. Hook) and Maguire matched in snazzy color-coordinated suits.
Bromantic Trio
Horowitz caught these three gentleman together: Josh Dallas (David), Robert Carlyle (Mr. Gold) and O'Donoghue.
Celebrating with the cast. #OnceTurns100 ! pic.twitter.com/5ee134IPTk

— Adam Horowitz (@AdamHorowitzLA) February 21, 2016
Caught in the Middle
Rose McIver (Tinker Bell) found herself holding court with Maguire and Rebecca Mader (Zelena).
And one more with these two fun timers x @OnceABC @sean_m_maguire @bexmader pic.twitter.com/EUGPTzjXKS

— Rose McIver (@imrosemciver) February 21, 2016
Not So Lost Boy
Robbie Kay (Peter Pan) posed in front of the OUAT party sign.
At the #ouat100 party last night, what an achievement!! Congratulations to everyone involv… https://t.co/R6VBQQ9Ur9 pic.twitter.com/6oplAPBS0h

— Robbie Kay (@RobbieKay_) February 21, 2016
Mirror, Mirror
Keegan Connor Tracy (The Blue Fairy) came face to face with…herself?!
Feeling like the show within the show. #OUAT 100th episode. pic.twitter.com/LbptXn5x23

— Keegan Connor Tracy (@keegolicious) February 21, 2016
One Big Fairy Tale Family
The Once Upon A Time cast and producers were all smiles in this photo by Rebecca Mader's fiancé, Marc Kayne.
Once Upon a Time, Midseason premiere/100th episode, Sunday, March 6, 8/7c, ABC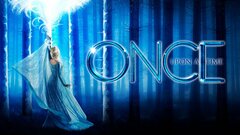 Powered by