Worth Watching: Consequences on 'Good Doctor,' BET Remembers Dr. King, 'Parks and Rec' Marathon, 'Big Brother: Celebrity Edition'
A selective critical checklist of notable Monday TV:
The Good Doctor (10/9c, ABC): It's hardly a surprise that just about everyone survived the two-episode quarantine crisis at St. Jose Bonaventure Hospital. But can the doctors' careers survive? That's the question in the "Aftermath" (episode title), which could very seriously affect Dr. Shaun Murphy (Freddie Highmore), caught on camera curling into a fetal position at the height of the crisis. As the Department of Public Health reviews the situation, the docs try to return to their normal life-saving routines, with a recuperating Dr. Lim (Christina Chang) also figuring out her new romantic boundaries with Dr. Melendez (Nicholas Gonzalez).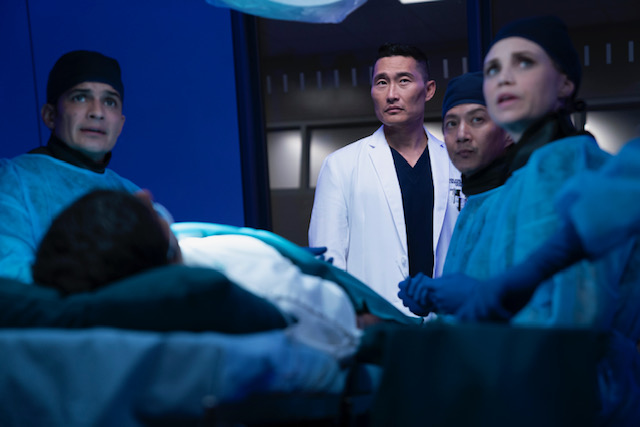 See Also
He calls the character 'dynamic and surprising.'
Martin: The Legacy of a King (9/8c, BET): Marking the Martin Luther King Jr. Day holiday, the network presents an hourlong documentary emphasizing Dr. King's methods of non-violent protest and faith-based belief in the best of humanity. Grammy-winning poet J. Ivy narrates, with commentary from activists (Rev. Al Sharpton, Rev. Jesse Jackson, Rev. William Barber) and celebrities including black-ish comic actor Deon Cole and Andre Holland (Moonlight).
See Also
The 'Dancing With the Stars' winner, who plays filmmaker Mark Cohen, gives us a preview of the January 27 event.
Parks and Recreation (starts at 7 am/6c, Comedy Central): Hard to imagine a more enjoyable way to spend a holiday than in the company of the eccentric residents of Pawnee, Ind., with 32 episodes of Leslie Knope (Amy Poehler) optimism in a 16-hour marathon welcoming the beloved NBC sitcom (2009-2015) to Comedy Central's lineup.
See Also
Plus, a must-see 'Parks and Recreation' 10th Anniversary Reunion.
Big Brother: Celebrity Edition (8/7c, CBS): Guilty pleasures don't come much guiltier than this exercise in claustrophobic exhibitionism, amplified over a three-week blitz (concluding Feb. 13) that traps 12 people with varying degrees of "celebrity" in a competition for a $250,000 prize. Among the more infamous of the "famous" contestants: Anthony "the Mooch" Scaramucci, short-lived White House communications director who will be challenged to stay in the Big Brother house longer, plus O.J. intimate Kato Kaelin, Olympians Ryan Lochte and Lolo Jones, comedian Tom Green, professional mom Dina Lohan and Joey "Whoa!" Lawrence, who may just think he's signed aboard another sitcom.
Inside Monday TV: Nickelodeon influencer Jace Norman (Henry Danger) moonlights as teen detective Xander DeWitt in the new Nickelodeon movie Bixler High Private Eye (7/6c), in which he teems with student reporter Kenzie Messina (Ariel Martin) to find his missing father… The CW is juggling its superhero franchises again, teaming the midseason return of Arrow (8/7c) with a relocated Black Panther (9/8)… Higgins (Perdita Weeks) takes center stage on CBS's Magnum P.I. (9/8c) when a wounded former MI6 colleague shows up with news that her nemesis, "the Viper," is somewhere on Oahu. This gets personal, because she holds the assassin responsible for the murder of her lost love… If HBO's The Jinx wasn't enough, Investigation Discovery revisits the twisted true-crime tale in the two-part Robert Durst: An ID Murder Mystery (9/8c), concluding Tuesday… NBC's Manifest (10/9c) is promising a game-changer when Ben (Josh Dallas) and Grace (Athena Karkanis) go looking for a missing Cal (Jack Messina). And the mysterious "Major" will be revealed.