Chuck Lorre Opens Up About 'Mom's Latest Heartbreaking Twist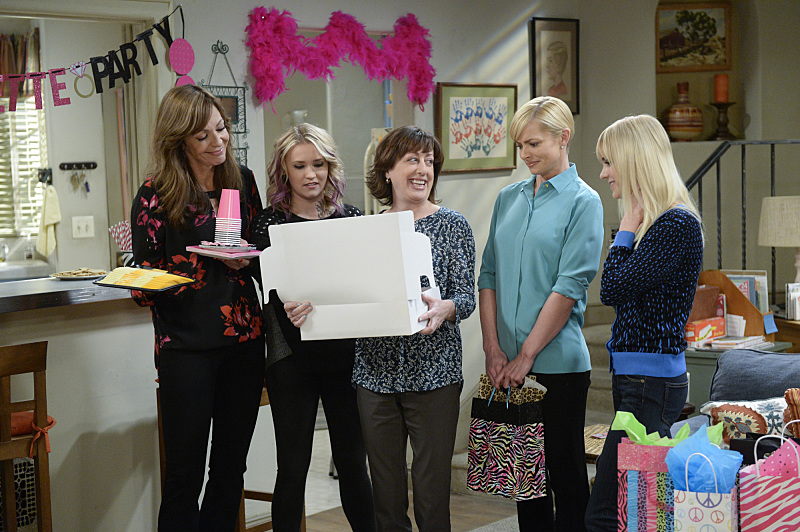 Spoiler alert! Do not read this post unless you've seen the latest Mom episode, "Diabetic Lesbians and a Blushing Bride."
Mom has never shied away from telling dark, realistic stories, but its recent installment was especially heartbreaking: Jodi (Emily Osment) fatally overdosed on drugs.
Her death was an especially brutal blow to the group, who had been worried about the influence of Jodi's newly sober boyfriend. She insisted that with six months of sobriety under her belt, things would be fine. While the women prepped for Marjorie's (Mimi Kennedy) wedding, Jodi reached out to Christy (Anna Faris), but wasn't successful in connecting. After the wedding, Christy got a call again from Jodi's number—it turned out to be a police officer with news of Jodi's overdose. Christ and Bonnie (Allison Janney) decided to keep the news a secret so that Marjorie could enjoy her wedding reception—and grieving was done privately.
Although Mom has tackled death before—last season, Bonnie's on-and-off-again boyfriend/Christy's father, Alvin (Kevin Pollak), died unexpectedly—this marked the first time the CBS comedy showcased a member of the group succumbing to addiction. To learn more about the decision to have Jodi overdose, we spoke to Mom co-creator Chuck Lorre, who also shared why there were some second thoughts.
When did the writers decide to have Jodi overdose?
It was planned when we introduced the character.
How much foreshadowing did you include in her previous episodes, and how much did you save for when she returned in this episode?
There was hope of laying the breadcrumbs out clearly that [addiction] was a slippery slope. Recovery from addiction is fragile. The one day at a time trope is sadly true; it's a vulnerable state of being that requires vigilance in the community and daily maintenance programming, like you would with diabetes. You can't ignore it. Having [the death] come out of nowhere didn't feel appropriate. There are incremental steps before someone falls out of sobriety and back into alcohol and drugs, and in this case, overdose.
RELATED: Why Mom Is the Most Dramatic Comedy on TV
Was Emily always aware this was in store for Jodi?
I'm not quite sure when we discussed it with Emily, but we knew we were going to lose Emily to another series [Freeform's Young & Hungry] at some point. Believe me, we fell in love with this young lady. The impulse to bail out of this story was ever-present because we just loved what she brought to the series. There's something really special about her, but we were faced with the reality that we only had a short time with her anyway. So we stuck with the original plan, which was that the character's original story arc would come to an end in a way that [people would] recognize as reality. Recovery is not a given. It's not an absolute state of affairs.
The biggest challenge in writing this storyline was insisting we were still making a comedy, and that these people were still capable of having laughter in their lives. How do you follow that? The episode that follows took a long time to figure out. How do we move past this? How do we move past it without being glib and superficial and making light? That was an interesting challenge as a writing staff. I think we did it, but it was really important not to have the series go forward as if nothing had happened. The nature of the show, from the beginning, has been to try and be as honest as possible with these characters.
When Alvin died in Season 2, he died in the middle of the episode and the fallout started instantly. What discussions did you have about structuring this episode differently, and waiting until the end to reveal Jodi died?
There was no way that I could see these characters rebound from this event, this news, once it plays out. So that was the logic behind structuring it the way we did. The danger she was in was right in front of you the whole episode, but the result of her going out with a guy who was clearly on shaky ground did not hit the story and the characters until the very end.
Christy was so busy trying to make sure Marjorie's wedding went off without a hitch that she was unable to take Jodi's call. How much guilt will she be feeling going forward?
She was distracted trying to do a good deed; she was trying to help another friend. She said, "I'll call you back." It's the heartbreak that the smallest thing that's overlooked can make the difference in someone's life. And no one's to blame; it's just the way things work out. It's the way life goes sometimes. She's struggling with grief and anger over the way things went. There's a scene where she's trying to make sense of it—this can't mean nothing. How do you integrate something like this into your life, as opposed to having it absolutely collapse you? That's a big part of the next episode.
The show has tackled dark topics before, but what was the cast's reaction when they got this script?
Everybody was heartbroken, because everybody loves Emily. She's a delight to work with. The cast—led by Anna and Allison—are very well aware that since we began, the goal of the series was to try and find ways to tell stories about what really goes on in people's lives. And in this case, people's lives who are recovering from what can often be a fatal state of mind and body. Everybody understood that we were coming towards the end of year three; we're not going to stop making that our mission statement.
How will the group deal with grief while trying to retain their sobriety?
There's a scene in the second act [of the next episode] where they tackle that head-on. The following episode is a bit of escapism—trying to run away from dealing with feelings, because their feelings are too dark. There's a scene where Christy just stops everything they're doing and says, "We have to talk about this. We have to deal with what we're feeling. This can't happen—we have to find something about this that gives us some hope and strength to carry on." [But] I think the following episode is pretty funny, believe it or not. They go to Canada to smuggle in some black market molasses.
What kind of conversations do you and the writers have with CBS and Warner Bros. when they hear you're going this serious for an arc?
There are no conversations. Sometimes I worry they've forgotten about us. I'm not complaining. Believe me, sometimes those conversations can be difficult. But they've allowed us to do what we've been doing since day one.
U.S. Surgeon General Dr. Vivek H. Murthy filmed a PSA with the cast that aired right after the episode. What does it mean to you that the show has a reach to impact people?
One of the most rewarding things about this series is, you meet people when you get out of the [Burbank] bubble. You find out this show actually matters in their lives. The show resonates with them on a personal level. If a sitcom can impact positively on a person's life, that's pretty wonderful. I think it's presumptuous to start off with that as a goal. It's presumptuous, it's arrogant, it's foolhardy. The goal, initially, has to be to entertain. But entertain-slash-push into territory that, at least for me, is dealing with subjects I wouldn't have dreamt of [tackling] on anything else. How this plays out tonight, I have no idea. I hope people watch, I hope they laugh, I hope they take something from it.
Mom airs Thursdays at 9/8c on CBS.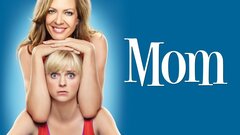 Mom
where to stream
Powered by