Why 'Mom' Is the Most Dramatic Comedy on TV
As Mom gets ready to close out its second season tonight, it's pretty safe to say the Chuck Lorre show is the most dramatic sitcom on TV today.
Back in the day, multi-camera sitcoms weren't always "laff-a-minute." The best of the '70s through the '90s (think All In The Family, Cheers, Roseanne, even Frasier and Everybody Loves Raymond) had moments where no one was laughing. There were moments where one character was sincere to another, or went through some sort of trauma, or expressed some sort of human emotion before cracking wise once again. These shows weren't afraid of heavy moments because they were as much about character and story as they were about laughs.
Lorre is a Roseanne veteran, so he knows sitcoms like that can be successful. And in Mom, he now has the right story, the right collaborators (Eddie Gorodetsky and Gemma Baker) and the cast to pull it off.
They made addiction funny while respecting what it can do to families.
The idea to have recovering addict and former stripper Christy Plunkett (Anna Faris) deal with her wild and reluctantly recovering mother Bonnie (Allison Janney) while trying to keep her life together was the key to making a sitcom about addiction less bleak than it sounds.
As the seasons have gone on, the chemistry between Faris and Janney has grown. We felt for Christy when Bonnie got hooked on painkillers and went off the wagon in the arc that concluded this past week. Yes, there are funny moments in their AA meetings, and in their dealings with Christy's scowling teenage daughter Violet (Sadie Calvano) and dopey pre-teen Roscoe (Blake Garrett Rosenthal). But the key to both the drama and the humor on the show is how these two willful people bounce off each other, with Bonnie always trying to do the right thing but loving the wrong thing, and Christy constantly bemoaning how much her mother ruined her life.
They got the right actors, both as regulars and guest stars.
Of course, it doesn't hurt that the actors on this high wire are Faris and Janney. Janney has been especially adept this season after winning an Emmy for her first season pratfalls and overall not-giving-a-crap performance. That wackiness has been toned down in favor of some of the Janney who also won an Emmy last year for her restrained performance in Masters of Sex. Bonnie has had to endure not only her relapse but before that the death of Christy's father Alvin (Kevin Pollak), just as they were rekindling the relationship that created Christy when the two of them were teenagers.
Her performance in that episode, "Three Smiles and an Unpainted Ceiling," should have been shipped right off to the Television Academy right after it aired, as Janney played both the horror of losing Alvin, the laughs of having to deal with his widow, and the struggle to not give into booze, all in one half-hour. Then she topped that performance the next week, when Bonnie crashed Alvin's funeral.
But the supporting cast has been equally up to the task. Though the cast at the restaurant where Christy works, namely the characters played by Nate Corddry and French Stewart, have faded into the background, they've been replaced by the Plunkett's AA friends and supporters: ever-positive cancer survivor Marjorie (Lorre vet Mimi Kennedy), clueless socialite Jill (Jaime Pressly, who will be a regular in season 3), and Regina (Oscar winner Octavia Spencer), a reformed embezzler who found Jesus. Spencer's acting bona fides are pretty obvious, but Pressly is putting in the best performance of her career and has made Jill into one of the more fun side characters we've seen in a sitcom in quite some time.
The writers go there… and beyond.
So far Christy has slept with her boss (Corddry), Violet has given her child up for adoption, then taken up with her 40-year-old professor (David Krumholz), Bonnie has relapsed more than once and also lied to get a job as an apartment building manager, Christy has gambled her rent money away and gotten her family evicted, and the long-lost father and love of Christy and Bonnie's life suddenly has a massive heart attack as he's stationed between Bonnie's legs.
Suffice to say, Lorre, Gorodetsky and Baker have "gone there" more than once, inserting big, dramatic, real-life moments into what in general is a fast-paced sitcom and somehow made them feel organic. The Plunketts get into this many situations not because they're cartoonish sitcom schlubs; it's because they're addicts who are constantly trying to keep it together in the face of inordinate financial and family pressure. Their pasts bite them in the butt on a regular basis, and try as they might not to pass their chaos on to the next generation, they're rewarded with the frowning teen mom and the kid who wants to stay with his stoner dad (Matt L. Jones) and his domineering fiancée (Sara Rue).
This degree of "going there" is far more adventurous, by the way, than the "going there" that the show's fellow CBS sitcom, 2 Broke Girls, does. It's much more comedically satisfying for Bonnie to be stealing cat tranquilizers in the middle of her relapse than to have Kat Dennings' character make one more crack about her boss' height or oral sex. There are no real stereotypical characters like in other muti-cams; no "dumb guy" or "overbearing mother" or "lecherous neighbor," just two women trying their best to stay straight in the face of incredible pressure that would make most people crack.
Mom isn't daring or edgy like Broad City or Community. Its comedy is still broad and accessible; it is a CBS show, after all. But within that broad comedy, there's plenty of drama and a cast that can pull it off. In tonight's season finale and ahead in Season 3, expect Mom to keep "going there," and keep being one of the most underrated shows on TV.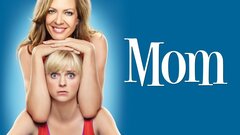 Mom
where to stream
Powered by