The 5 Biggest 'Vikings' Surprises From the Season 4 Premiere
Spoiler alert! Don't read further if you haven't watched the newest episode of Vikings.
As Season 4 of Vikings opened, King Ragnar (Travis Fimmel) was knocking on death's door—the gates of Valhalla to be specific—but he missed his chance to make it inside the Viking warriors' paradise, waking up battered and bedridden in Kattegat instead. Meanwhile, in the wake of a successful Paris raid, family and enemy alike sought to prove themselves worthy of succeeding Ragnar's title and power should he move on to any of the possible afterlives, pagan or Christian, that he'd imagined.
Here are the five important takeaways from the first episode that will shape the rest of Season 4.
A Woman Will Rule in Kattegat One Day
During scenes that showed Ragnar's vision of Valhalla, parallel scenes showed Queen Aslaug's (Alyssa Sutherland) consultation with Kattegat's cryptic Seer (John Kavanagh). Aslaug asked the Seer if a woman would hold power in Kattegat after Ragnar's death. The Seer admitted that a woman would rule, but he refused to name the woman. Although the Seer has had a solid record of accurate visions in previous seasons, his predictions haven't always come true in the ways characters expected. So these questions remained: How will a woman come to power? Will Ragnar need to die for that to happen? And who will that woman be?
Bjorn Chose (Temporary) Self-Banishment to Prove Himself to Ragnar
While the king was incapacitated, leadership in Kattegat defaulted to Ragnar's eldest son, Bjorn (Alexander Ludwig). He demonstrated his authority during a Paris raid victory speech by ordering Floki (Gustaf Skarsgård) arrested for the murder of Athelstan (George Blagden). Bjorn still had a few issues to work through. The mother of his child, Þorunn (Gaia Weiss), abandoned their daughter and disappeared, but Bjorn didn't want anything to do with the child. On top of that, Ragnar couldn't trust Bjorn's leadership instincts, chiding his son for the decision to arrest Floki and leave Uncle Rollo (Clive Standen) in Paris. So to impress his father, Bjorn decided to brave the harsh wilderness and prove he could survive. This meant his destiny, related to the mysteriously important map recovered in Paris, would have to wait a while.
PHOTOS: Get a First Look on Vikings Scenes From Season 4
Ragnar Was Unwillingly Forced by Bjorn to Deal With Floki
Before Bjorn had him arrested, Floki came to Ragnar's bedside with a pair of rune-inscribed antlers and left them on Ragnar's chest with the promise that they would help heal him. Despite increasing animosity over their diverging attitudes on Athelstan and Christianity, Floki and Ragnar still managed to maintain their friendship. When Ragnar woke to find Floki arrested, he wasn't pleased that Bjorn had made their feud public. "Now I am forced to deal with my errant friend," Ragnar reluctantly vowed.
Kalf and Lagertha Showed They Should Never Be Crossed
Upon returning to Hedeby, Kalf (Ben Robson) honored the agreement he made in Paris by announcing that he and Lagertha (Katheryn Winnick) would rule the earldom as equals. Einar (Steve Wall), who had plotted with Kalf to overthrow Lagertha when she was the sole earl of Hedeby, found this arrangement to be unacceptable and told Kalf to reverse his decision. Kalf didn't take kindly to the suggestion, so he tricked all of Lagertha's detractors into revealing themselves…to be easily murdered with crossbows. Lagertha then made sure that Einar—who was already pinned to a post by a crossbow bolt through the neck—suffered the worst fate of all her betrayers before he died: castration. Even though Kalf helped her, Lagertha promised last season to kill him eventually, though this left some time for him to (possibly) earn back her trust.
Rollo Slaughtered His Own to Be Allied With Parisians
After an awkward forced wedding to Princess Gisla (Morgane Polanski), Rollo was surprisingly gentle with his unwilling bride and refrained from forcing himself on her. Despite this, he wasted little time proving Ragnar right about Bjorn's foolish mistake to leave his uncle in Paris. When his own band of Vikings confronted him about his assimilation into Frankish nobility, Rollo simply arranged a Frankish ambush to have all of his former followers killed. While this wasn't the first time Rollo fought against his own and betrayed Ragnar's trust, his vicious act showed he was fully committed to Frankish life, and this change in allegiance may be difficult to reverse.
Vikings, Thursdays, 10/9c, History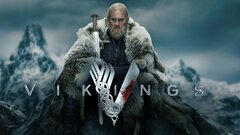 Vikings
where to stream
Powered by