'Vikings' Returns With Bigger Battles, and Even Some Romance for Ragnar
Get ready to see double, Vikings fans. In Season 4, the sexy, savage, sometimes supernatural Norse saga expands from the usual 10 episodes to 20. "This season is going to transcend anything we've done," vows executive producer Michael Hirst.
RELATED: More New Shows Premiering in Winter
That's saying a lot. Season 3 killed off major characters (we miss you, Athelstan and Siggy!) and featured the show's most jaw-dropping battle sequences yet, including the Viking raid on Paris that left King Ragnar Lothbrok (Travis Fimmel) gravely wounded in the finale.
In this season's opener, Ragnar recovers—somewhat. "His life from now on is in constant jeopardy," Hirst reveals. "His brother, Rollo [Clive Standen], may betray Ragnar again, and big time. His rule is never the same."
The Viking king has few confidantes left. He's still deciding how to punish old friend Floki (Gustaf Skarsgård) for killing new pal Athelstan (George Blagden) but finds an unexpected intimate in Chinese slave Yidu (Dianne Doan), who was captured in Paris. "There is a romantic element to their relationship," Hirst teases. Waiting in the wings if Ragnar goes to Valhalla is his warrior son Bjorn (Alexander Ludwig), who goes on a mission in the winter wilderness to prove his worth to his father. "Very, very nasty things happen to him," Hirst hints.
RELATED: (Video) Behind the Scenes of the Vikings Paris Raid
But that's just the beginning. Expect bigger battles with new weapons, deadly new fighting techniques and more heartbreak. "We've definitely topped the raid on Paris," Hirst says. "There are going to be casualties."
Vikings, Returns Thursday, Feb. 18, 10/9c, History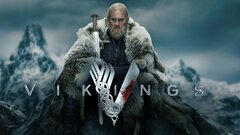 Vikings
where to stream
Powered by