'A Twist of Christmas' Star Vanessa Lachey Reveals the Holiday Flick that Makes Nick Cry!
On Saturday, December 1, Vanessa Lachey stars in her first (but hopefully not last!) Christmas movie in Lifetime's A Twist of Christmas.
In the festive flick, two single parents — busy working mom Abby (Lachey) and overwhelmed lawyer Ryan (Charmed cutie Brendon Zub) — accidentally mix up their toys at a crowded department store.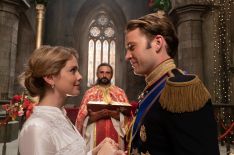 See Also
Including those from Lifetime, Freeform, Hallmark, and everything in-between.
Although the two parents can't stand each other, they are forced to work together to salvage the holidays for their children. Our guess is that the film ends with some kissing under the mistletoe.
Take a peek at A Twist of Christmas
When TV Insider asked Vanessa about her favorite holiday film, the actress revealed, "A holiday movie [husband Nick Lachey] and I watch every year since we started dating is Love Actually.
She continued, "When we got married we had the song — just like in the movie — "All You Need Is Love" play as we walked out as husband and wife. It's a special movie to us, and Nick cries every time the little boy runs through the airport at the end to get the girl."
Aww, Nick! We totally get it. Love Actually makes us cry, too.
A Twist of Christmas, Saturday, December 1 at 8/7c, Lifetime