'Nightflyers': Gretchen Mol Previews the 'Horrific' Ride on the George R.R. Martin Series (VIDEO)
Syfy is set to launch its epic adaptation of George R.R. Martin's novella Nightyflyers this weekend and star Gretchen Mol says that "crazy things" are in store — not just for the crew of a massive spaceship but also the viewers.
See Also
The space horror drama is set in 2093 and follows a team of explorers as they encounter the dangers of space.
"Some of the things I read [in the scripts] were like, 'What?!'" confesses the Manchester by the Sea actress, who adds that she was glad she didn't have to be the one to perform certain scenes. "It's horrific at times."
We sat down with Mol to talk about the show, which shot in Ireland. She also shared how her character Dr. Agatha Matheson fits into the story of a crew that is sent into deep space to make contact with an alien race that might be able to save our dying planet.
In a bold move perfect for part-time bingers, the first five episodes of Nightflyers will be debut Sunday, December 2, through Thursday, December 6, at 10/9c. Episodes 6 through 10 will run Sunday, December 9, through Thursday, December 13, at 10/9c.
Even cooler, the episodes will air with limited commercial interruption across all of Syfy's platforms and there will be weekend marathons so fans can catch up!
Nightflyers, Series Premiere, Sunday, December 2, 10/9c, Syfy and its digital platforms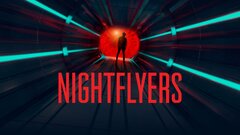 Powered by