A New Chapter for 'Catfish': Jim Carrey's Daughter Jane Carrey on Guest-Hosting With Nev
So long to silver-haired fox Max Joseph.
Catfish and Nev Schulman are beginning a new chapter without the show's original host and producer. The MTV series has a slew of brand-new episodes, and they're experimenting every week with a new co-host until a replacement is found.
"Nev and the mystery co-host will dig deeper with each person in the relationship, revealing surprising truths and unexpected twists. The investigations promise to have the most shocking revelations yet," the network revealed.
First up when new episodes return this Wednesday is Jane Carrey — musician, mother, and daughter of legendary actor and comedian Jim Carrey. She was ready to test her detective skills and help someone who believes they were tricked online.
TV Insider spoke with Jane about her experience on the show, what surprised her, and what her dad thinks about the show:
Were you a fan of Catfish going in?
Jane Carrey: Yes, all the way back to the documentary, I've been following along. It's been a wild ride.
How did you get involved?
I'm friends with people involved [with the show] and I was always interested [in being on it]. Everything just kind of worked out naturally, and I was very excited to get to be a part of it. I think [the show] is more relevant now than it ever has been. Everyone has a superhero identity online, and it's hard, for some people, to know where to draw the line.
What do you think you bring to the show?
I'm a mystery solver. If there's a question, I need to find the answer. And if there's a Rubik's Cube to solve, I don't want to walk away until it's solved. The show is a perfect venue for me to show my investigative skills. I had a great time and made some great memories.
How was it working with Nev?
Nev is awesome. He's so easygoing, but at the same time so determined to get to the bottom of [the mystery]. It was really easy working with him. You can tell how much compassion he has. People connect with him and really trust him. He was a great teacher.
What was the most surprising aspect of the whole experience?
Let's just say clothing-optional [in this episode]!
Was it hard to control your emotions?
I can understand both sides of the coin. You know, what drives people to do these kinds of things. I'd say the conflict I had was fighting with myself over what was the truth and what wasn't. On one side, you're like, 'It's definitely a catfish,' and on the other, you're like, 'It's going to turn out wonderfully,' and then you're back to believing it's a catfish.
You spend so much time with feeling hopeful that you really hope it works out well. You want it to. The hardest part is the unknown — the hope and anxiety.
What did you learn from the co-hosting experience?
I like to learn, and I'm very interested in how we think and why we think, what drives us as humans, why we act how we act, especially since the internet is such a crazy place. I feel like I got a little more insight into that. You definitely cannot judge someone too quickly.
A lot of this show is improvisation, which your dad is a pro at. Did he give you any advice?
I guess I've been watching him over the years. I've seen him in those situations. You forget the cameras are even there. You're just standing there with real people. All the reactions are genuine.
He was definitely supportive of me being on the series. He was a fan of the documentary, too, and had seen the show. He said to me, "This is so right up your alley! You're going to have such a great time."
Catfish, New Episodes, Wednesdays, 9/8c, MTV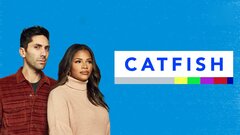 Powered by