'NCIS: Los Angeles': Why Linda Hunt's Hetty Has Been MIA in Season 10
Where in the world has Henrietta "Hetty" Lange been? Now we finally know.
Linda Hunt, who has played the stoic yet hilarious character in more than 200 episodes of NCIS: Los Angeles, has had fans wondering if she'd been written off of the show due to her Season 10 absence. Well, apparently the actress was in a car accident in July but still needs more time to recover after suffering some minor injuries.
"I first want to say how much I appreciate the outpouring of support from the NCIS: Los Angeles fans following my car accident this summer," the 73-year-old said in a statement. "Though I had hoped to return to playing Hetty at the start of the season, I had to take some additional time to recover. I look forward to returning later this season."
The accident explains why fans only heard her voice in the Season 10 premiere and why her character has been in Washington, D.C. with Mosely (Nia Long).
The pair are in hot water after her team (Chris O'Donnell, LL Cool J, Daniela Ruah, and Eric Christian Olsen) traveled to Mexico to rescue Mosley's son on an unauthorized mission, were hit by a missile, and almost didn't make it back across the border alive.
Hetty hasn't had an easy time herself. The character was kidnapped in Vietnam during Season 9, held hostage, and then eventually rescued.
During her time away from her NCIS team, Deputy Director Louis Ochoa (Esai Morales) has come on board to help manage everyone in the meantime. We hope to see her kicking ass and taking names in the very near future!
NCIS: Los Angeles, Sundays, 9/8c, CBS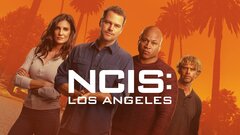 Powered by