When Will We See Kensi & Deeks' Wedding on 'NCIS: Los Angeles'?
It's a question that every NCIS: Los Angeles fan has had since Kensi (Daniela Ruah) and Deeks (Eric Christian Olsen) became engaged: When are they tying the knot?!
In Season 9, the couple hit a little bump in the road over their career paths — Kensi wanted to stay working in the field, while Deeks wanted to start settling down and think about having a family. Of course, after the Mexico mission that put their lives at risk, they wised up and realized what was most important: supporting one another.
Now in the midst of Season 10, fans are still waiting patiently for the long-awaited nuptials and wedding bells could ring sooner rather than later. When word first broke that the two would walk down the aisle — even before the proposal! — executive producer R. Scott Gemmill gave a hint at when that episode could air.
"We are excited to finally see that happen this year, probably after Christmas," he told Entertainment Weekly at the time. "A meme that developed between Kensi and Deeks, where he said she smells like sunshine and gunpowder. Their wedding will be a perfect example of that."
Then, in January 2019, Daniela Ruah herself revealed some hints about when fans can expect the highly anticipated event. The actress posted to Instagram a photo of the script for the presumed episode, captioning, "The episode many of you have been waiting for…"
The script reveals the episode title, "Till Death Do Us Part," and that it's the 17th episode in the season. Episode 14 airs January 27, followed by a two-week hiatus on February 3 and 10 for the Super Bowl and Grammys, respectively. That means, barring a double-episode week, CBS will air the wedding episode in March!
While no definite release date is set, the Season 10 promise is that much closer to fulfillment.
So when do you think the wedding will be? Weigh in with your guesses in the comments below.
NCIS: Los Angeles, Sundays, 9/8c, CBS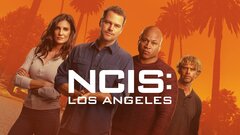 Powered by